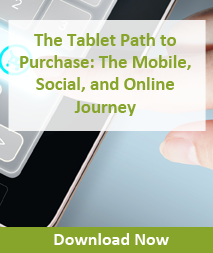 We all know the consumer purchase journey has changed dramatically since the "mobile web" explosion and continues to evolve rapidly. In order to understand the current state of this evolving journey, CMB surveyed 2,000 recent buyers of tablets in the U.S. We confirmed several things that we expected to see, but we also busted a few myths along the way:
1. TRUE: "Online media and advertising are now essential to influence consumers."
Reading about tablets online and online advertisements are the top ways in which consumers learn about new brands or products. [

Tweet this.

]
Nearly everyone we surveyed does some type of research and evaluation online before buying—most commonly using online-only shopping sites (e.g., Amazon, eBay, etc.), general web searches, consumer electronics store websites, review websites (e.g., CNET, Engadget, etc.), or tablet manufacturer websites.
2. TRUE: "The mobile web is becoming more important in the consumer purchase journey."
Over half of buyers use the mobile web during the research and evaluation phase, and nearly 40% of buyers do so as a part of the final purchase decision (although very few people actually purchase a tablet using a mobile device). [

Tweet this.

]
3. FALSE: "Mobile applications are becoming very important in the consumer purchase journey."
Although the mobile web is now highly influential, very little purchase journey activity actually happens from within a mobile application per se. This could be because tablet purchasing isn't something that happens frequently for more individual consumers (high-frequency activities lend themselves better to a dedicated app to expedite and track them). [

Tweet this.

]
4. FALSE: "Social Media is becoming very important in the consumer purchase journey."
The purchase journey for tablets is indeed very "social" (i.e., word-of-mouth and consumer reviews are hugely influential), but precious little of this socialization actually happens on social media platforms in the case of U.S. tablet buyers. [

Tweet this.

]
5. FALSE: "The Brick and Mortar Retail Store is Dead."
The rise of all things online does not spell the death of brick and mortar retail in the consumer electronics category. In-store experiences (including speaking with retail sales associated and doing hands-on demos of tablets) were one of the top sources of influence during the research and evaluation phase, regardless of whether they ultimately bought their tablet in a physical store.
Next to ads, in-store experiences were the top source of awareness for new tablet brands and models. 41% of those who learned about new makes/models during the process did so inside of a physical retail store. [

Tweet this.

]
Half of all buyers surveyed actually bought their tablet in a physical retail store. [Tweet this.]
6. TRUE: The line between "online" and "offline" purchase journeys is becoming blurred.
Most people use both online and offline sources during their purchase journey, and they typically influence one another. People doing research online may discover that a tablet model they are interested in is on sale at a particular retailer. At the same time, something a retail sales associate recommends to a shopper in a store may spur an online search in order to read other consumer reviews and see where they can get the recommended model the cheapest and fastest. Smartphone-based activities from within a retail store are just as common as interacting with an actual salesperson face-to-face at this point.
The mobile web is undoubtedly here to stay, and how consumers go about making various different buying decisions will continue to evolve along with future changes in the mobile web. Here at CMB, we will continue to help companies and brands adapt to these shifts.
For more on our mobile stitching methodology, please see CMB's Chris Neal's webinar with Research Now: Watch the Webinar
Chris leads CMB's Tech Practice. He enjoys spending time with his two kids and rock climbing.