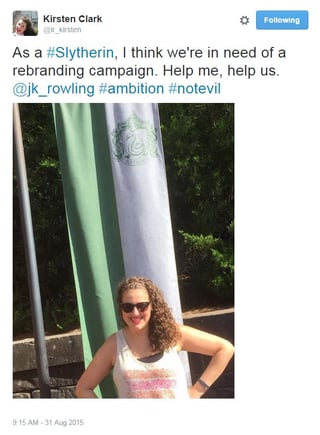 Gryffindor, Hufflepuff, Ravenclaw, or Slytherin? Brave, loyal, wise, or ambitious. . .which one are you?
For those of you unfamiliar with the Harry Potter series, these are the 4 houses that make up Hogwarts School of Witchcraft and Wizardry. When each young witch and wizard enters the school, a magical hat sorts them into one of four houses. Each house values certain attributes. Gryffindors value bravery and daring. Hufflepuffs value kindness and loyalty. Ravenclaws value knowledge and intelligence. Slytherins value ambition and cunning. The three main characters are Gryffindors (Harry, Ron, and Hermione), and most of the series' villains come from one house in particular: Slytherin. Based on the rigorous questionnaire I completed on the Pottermore, I discovered I, too, am a Slytherin.
This past summer, I went to The Wizarding World of Harry Potter in Orlando, FL to immerse myself in the whimsy and magic of J.K. Rowling's world. Let me start by saying that if you're a Harry Potter fan, the theme park is definitely worth a visit. The attention to detail is incredible. However, I have a bone to pick. I went to this theme park eager and willing to spend money on paraphernalia that would let me proudly represent my house. . .but I couldn't find a single shirt that I liked. I went into every shop multiple times and was astounded (and disappointed) at the lack of Slytherin branded items. Gryffindors, on the other hand, had an expansive array of shirts, blankets, and cardigans to choose from.
Let my disappointment serve as a perfect example of why segmentation is so important. Without a useful segmentation, you can miss out on extremely valuable customers. It's also essential in learning how to market to different groups of target customers with different needs.
As is the case with many brands, it's possible Hogwarts' houses aren't just separated by character values, but also by consumer values and shopping habits. Maybe Slytherins are more price sensitive (though the Malfoys would demonstrate otherwise) or perhaps they don't like to advertise that they're cunning individuals (because that would make it a bit harder to be cunning). It's also possible that Slytherins only make up a very small percentage of Harry Potter fans (we are special, after all), which would justify the lack of money and space Universal spent on Slytherin merchandise. Of course, it's also possible that the opposite of all of this is true. . .but it's more than the Sorting Hat will be able to tell you.
I did end up buying a patch with my house crest, and I let J.K. Rowling know that it's time for Slytherins to get the respect we deserve. She has yet to respond.
Kirsten Clark is a Marketing Associate at CMB. Even though she's a Slytherin, she closely identifies with Hermione Granger. In fact, in true Hermione fashion, she was once limited to asking only one question per day in elementary school.
The Sorting Hat might not be able to help you with segmentation, but we can.