The future is here: technology is empowering people like never before and consumers have myriad choices and high expectations. From the C-Suite down, brands are trying to make sense of digital disruption and what it means for their organization. Insights folks aren't immune to this disruption—in an increasingly consumer-centric and data-rich world we all have to think about where insight truly adds value.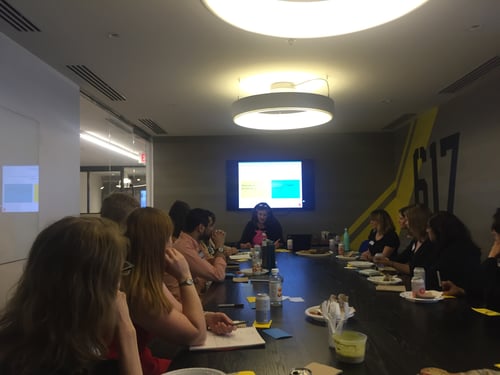 CMB's Judy Melanson kicks off our "lunch and learn" with Boston-area insights folks by discussing the digital disruption and increasingly evolving corporate environment.
What does this mean for your organization? For nimble, flexible, and innovative firms, there's a tremendous opportunity to blaze new trails for how insights operates. On the other hand, organizations that are slow to adapt may fall behind and even fail.
In the spirit of focusing on this (now) future, last week a handful of Boston-based researchers joined CMBers for an engaging and insightful "lunch and learn" to share best practices on leveraging opportunities and overcoming challenges in today's evolving corporate environment. After all, if decisions were easy and choices were clear, none of us would work in research!
During the lunch, CMB's Brant Cruz presented a short case study on a strategic insights architecture audit we recently conducted of Electronic Arts' (EA) research department. With the support of senior leadership, EA's insights team improved the effectiveness of their department, employee satisfaction, and ultimately drove improvements and efficiencies across the organization. We used the EA case study as a jumping off point for discussion because, like many of the researchers around the table, EA was asking big questions like, "how can insights drive positive change and growth?"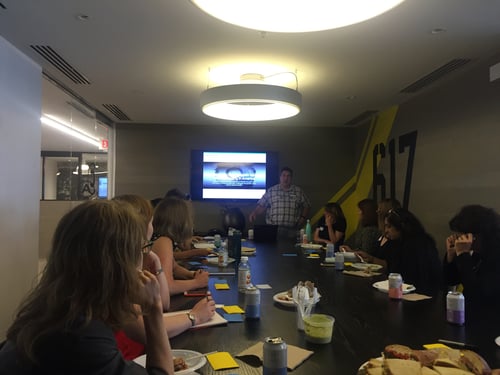 CMB's Brant Cruz giving a short presentation on our recent strategic insights architecture audit for Electronic Arts' (EA) research department.
After the presentation, we opened it up to the Boston-area insights folks to discuss what they're most excited about in the future of insights and the challenges/obstacles they currently face. It was an engaging and enlightening conversation that proved organizations across the board—agency, non-profit, financial services, etc.—are facing some of the same challenges.
Here are some emerging themes:
Pace of decision-making: It's important to build in time to gather, analyze, and determine research results. There's a need to streamline methodologies while adhering to business requirements. The challenge is making time for satisfying both.
Organizational structure: Many organizations we spoke to stressed the challenge of a siloed work environment where (1) departments have competing priorities and (2) are sometimes conducting their own research. This compartmentalized structure prevents the potential for the organization to have a cohesive data and insights strategy.
Call to action: Most agreed when one researcher mentioned the challenge of research read outs that end in "ta-da" instead of "what now"? Oftentimes there's a lack of shared vision/grasp of actions to take based on the results. How do we move from "ah ha" moments to actionable strategies?
Knowledge sharing: This relates to the siloed organizational structure. When departments aren't communicating, the organization loses a tremendous opportunity to share knowledge and data within its teams.
Lots of data: There's an amazing amount of data at an organization's fingertips that sometimes, they don't know what to do with it. How can an organization identify what data is important that will yield actionable, valuable insight?
While there are common challenges researchers are facing, the changing landscape poses a lot of new opportunities, too:
Frameworks: Don't reinvent the wheel, seize the opportunity to use and improve upon existing designs within the organization.
Consider new sources of information: There's value in looking at "nontraditional" data points, for example, the behavioral psychology of consumer decision-making (e.g., consumer identity and emotion).
Blend techniques: Consider a hybrid approach to your research projects, combining quantitative and qualitative methodologies for a richer perspective. In adding a qualitative component to your project, you'll dig deeper and uncover the "why" behind the numbers.
Make data work harder: Look at your data every which way—horizontally and vertically—to identify potentially hidden insights. Look for opportunities to integrate your data in ways you haven't before.
Improve decision-making: Make insights part of your organization's key decision-making process to drive meaningful action.
Focus on the business objectives—What key business questions are you trying to answer? Let that guide your data, insights, and action plan.
There are overarching challenges and opportunities we in the insights community face as organizational structures continue to evolve. And while these larger challenges and opportunities must be met with the support from the top down, there are immediate actions you can take to improve your personal effectiveness as a member of your team:
Be an agent of change: Embrace new ideas and tools.
Be future focused: Encourage people to think of research as an investment rather than an expense.
Be a provocateur: Shape your organization's thinking by asking hard questions that inspire risk taking and creativity.
Be the voice: Advocate for bringing the customer into the organization's decision-making. In this consumer-centric world, you must connect the brand to the consumer.
"Create more value from insights: Provide the "now what" and be accountable for the business result.
Reflect on your research super-power—what makes you good at what you do—and apply it in today's challenging business environment to drive positive change.
Missed us at the Boston Lunch and Learn? We'll be at the Insights Association's Great Lakes Chapter Meet & Greet in Chicago on July 27! Enjoy cocktails and hor d'oeuvres, network with regional insights professionals, and meet with some of our lead researchers! More information here.
Judy is CMB's VP of Travel and Entertainment, leading studies to drive strategies to get, keep and grow loyal customers and viewers. Her super-power, passion, comes alive in her desire to connect with research teams and deliver insights of value.