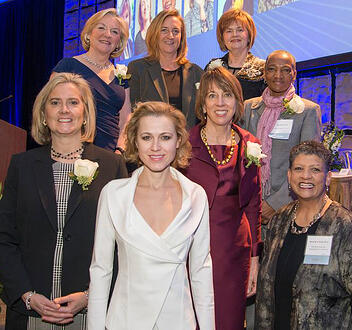 CMB is a great place to work for both genders, but, as a woman, I'd like to give you my perspective. Having recently attended the Greater Boston Chamber of Commerce's annual Pinnacle Awards, a luncheon celebrating women leaders in the Boston community, I started to reflect on my own journey in the workforce. The eight women receiving awards that afternoon all had such inspiring stories, most facing some form of adversity, to become leaders in their field and contributors to the Boston community. Fortunately for me, CMB has given me many opportunities to grow and develop professionally, perhaps due in part to the fact that it is a woman-led company. Our President and CEO, Anne Bailey Berman, was herself a recipient of a Pinnacle Award back in 2007 for achievement in entrepreneurship, and CMB was named one of the top women-led businesses in Boston this past year.I joined CMB straight out of college nearly 5 years ago, starting out as an associate researcher. My first impression was that CMB's culture was an open one in which collaboration between senior and entry-level staff was not only encouraged but considered a critical part of a project's success. However, you're not just thrown to the wolves. CMB has a great training program for new associates, teaching all facets of project execution through classroom-setting sessions and on-the-job training through project mentorship from senior associates. There are clear paths for promotion and growth and development opportunities for all levels in weekly "CMB University" sessions. Anne is always telling us to "ask for forgiveness, not permission." We're encouraged to have our own voice and contribute strategic thinking from the outset, and after only 3 years, I was promoted from associate to senior associate to project manager.
As a project manager, I have faced new challenges in finding the managing style that works best for me, particularly as a woman. Thanks to Anne's involvement in the Boston business community as well as her recognition of the importance of the role of women in leadership, I have been presented with examples of strong management and opportunities to attend events that help me find the style that works best for me.
As a group, the women of CMB attend networking breakfasts and co-host WIRE (Women In Research) events. The best opportunity I've received so far is being accepted to the Boston Chamber Women's Leadership Program, which allows me to attend events, seminars, and lectures to learn from my peers and other women leaders in our community. Just this week, our Senior Marketing Manager, Stephanie Kimball, was accepted to Boston's Future Leaders Program.
So ladies (and gents), if you're interested in a career in market research, I encourage you to apply here. We have smart people, do important work for world-leading brands, and give back to the community through fundraising and volunteering. There is a true sense of comradery between colleagues here. CMB's not just a stop along the way, but a place where you can grow your career. This is a place where producing exceptional work is the attainable expectation and every day is a new learning experience.
For key takeaways from this year's Pinnacle Awards, visit http://bostonchamber.com/lessons-in-leadership-for-greater-boston-women/.
Caitlin Dailey is a Project Manager for the Travel/Entertainment/Finance/Healthcare/Insurance practice. Outside of work, she is a company dancer with DanceWorks Boston.
Come grow with us! We're currently hiring, so check out our open positions and contact us today.