I'm getting married in August, and the past year and a half of planning has been a whirlwind of fabrics, colors, and decisions. The number of options you have for any given item are immense, and, as a market researcher, I began to consider the choices I had and how I would make them.
Let's talk about cake. We tried 15 flavors of cake, and we knew that we could combine any four of them. They could be the same, or we could have 4 different flavors or a combination. Effectively, we had 3,060 possible combinations for cake. Now, that could be very overwhelming, but, to me, it was just a giant Conjoint Analysis exercise.
Conjoint Analysis is a trade-off technique that market researchers use to estimate consumer preferences for products with multiple features. The beauty of Conjoint Analysis is that it allows a researcher to predict preferences for huge numbers of possible product combinations without testing each combination explicitly. The secret is in attaching a value to each level (chocolate, vanilla, strawberry, etc.) to each attribute (flavor) and making the assumption that the value of the whole is equal to the sum of its parts. For our wedding cake, we were presented with 2 attributes: Flavor and Number of Flavor Repeats.
For this Self-Explicated Conjoint exercise, I listed out the 15 possible flavors and number of possible repeated flavors. I then rated them on a 1-10 scale based on how attractive they were to me. Additionally, I rated each attribute based on how important it was to the final decision. In the case below, the number of repeated flavors was a more important attribute than flavor (60% of my decision). Finally, I multiplied the level and attribute values together to get a utility score.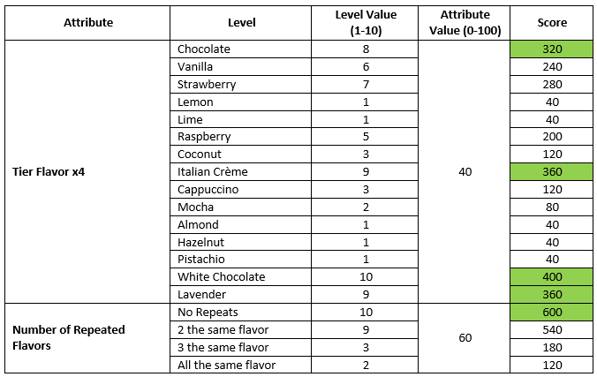 From there, it's math! Now, with these scores, I have the ability to simulate all 3,060 cake combinations with their values (that's a lot of frosting). To determine the "BEST CAKE" you add the utilities together and look for the highest total utility. In our case, it was 2 White Chocolate Tiers, with 1 Lavender, and 1 Italian Crème, with a total utility of 2,060. This very narrowly beat out 4 independent flavors (White Chocolate, Lavender, Italian Crème, and Chocolate) because of the high value for White Chocolate.
Conjoint Analysis is helpful for numerous research needs (wedding planning included). Presenting individuals with various combinations of attributes helps determine how each attribute is valued, which can be projected to the larger population. By making tradeoffs when comparing different combinations, I was able to choose a cake that worked for our event. For organizations, Conjoint Analysis can help determine which new product features will perform the best, which hotel packages offer the biggest bang for the buck, or which insurance items will be most desirable to individuals. Conjoint is applicable across any organization and is a valuable analytical tool to help determine which combinations of attributes perform best.
Learn more about avoiding common pitfalls in Conjoint Analysis.
Alyse Dunn is a Data Manager at CMB, and she looks forward to how her Conjoint Analysis exercises in wedding planning will pay off (and thanks our Senior Analyst Liz White for socializing this example).