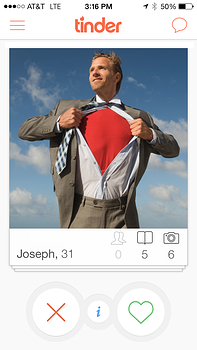 I know what you are thinking..."What the heck is she TALKING about? How can Tinder possibly relate to mobile ethnography?" You can call me crazy, but hear me out first.For those of you who may be unfamiliar, Tinder is a well-known "hook up" app that's taken the smartphone wielding, hyper-social Millennial world by storm. With a simple swipe of the index finger, one can either approve or reject someone from a massive list of prospects. At the end of the day, it comes down to anonymously passing judgment on looks alone—yet if both users "like" each other, they are connected. Shallow? You bet. Effective? Clearly it must be because thousands of people are downloading the app daily.
So what's the connection with mobile ethnography? While Tinder appears to be an effective tool for anonymously communicating attraction (anonymous in that the only thing you really know about the other person is what they look like), mobile ethnography is an effective tool for anonymously communicating daily experiences that we generally aren't as privy to as researchers. Mobile ethnography gives us better insight into consumer behavior by bringing us places we've never gone before but are worthy of knowing nonetheless (Cialis, anyone?). Tapping into these experiences—from the benign to the very private—are the nuts and bolts behind any good product or brand.
So how might one tap into these experiences using mobile ethnography? It's actually quite easy—we create and assign "activities" that are not only engaging for participants, but are also designed to dig deep and (hopefully) capture the "Aha!" moments we aim for as researchers. Imagine being able to see how consumers interact with your brand on a day-to-day basis—how they use your product, where their needs are being fulfilled, and where they experience frustrations. Imagine "being there" when your customer experiences your brand—offering insight into what delights and disappoints them right then and there (i.e., not several weeks later in a focus group facility). The possibilities for mobile ethnography are endless...let's just hope the possibilities for Tinder come to a screeching halt sooner rather than later.
Anne Hooper is the Director of Qualitative Services at CMB. She has a 12 year old daughter who has no idea what Tinder is, and she hopes it stays that way for a very long time.