Originally posted in Loyalty360's Loyalty Management magazine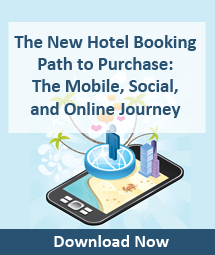 For a consumer looking to book a stay at a hotel, the good news is that the available sources to research and purchase are immense.
For a marketer looking to attract consumers to stay at a certain hotel, the challenge is the number of available sources to connect with consumers.With this in mind, market research and consulting firm Chadwick Martin Bailey (CMB) recently conducted a study that illuminated the new hotel booking path to purchase – confirming that yes, a wide variety of channels and factors influence the consumer's hotel decision for leisure travel. Adding to the complexity of this situation, these various sources are used very differently at different stages of the purchase journey.
"There's no shortage of information available to travelers as they plan and book hotels for their vacations," says Judy Melanson, SVP of CMB's Travel and Hospitality practice. "We know their path involves multiple sites and sources of information. The challenge for hotels is to decide how to align their marketing budgets to best intercept potential travelers—delivering desired content on the appropriate device and through the right channels and partners."
The results, based on responses from over 2,000 consumers, show that mobile devices in particular are leveraged only at specific points in the decision-making process. Over 60% of consumers used a mobile device during their purchase journey, and almost half (49%) utilized these devices during the research and evaluation phase. But, when it came time to actually book the hotel, only 6% opted to use a mobile device to do so. Instead, booking online using a desktop or laptop was the method of choice for 68% of those surveyed.
And while online resources in general were popular, mobile applications were used infrequently throughout the journey – in total, only 6% of consumers used them at all, whether for social media or other online sites. Additionally, peer reviews greatly influenced decision-making, but these recommendations were sought through specific channels. Social media was utilized only 13% of the time, while consumer reviews were consulted more often at 59% of the time in total.
Finally, the research shows that customers want the best deal, as almost half took the time to compare room rates on sites like Expedia, Priceline, or Kayak. 36 percent of those who used one or more of these sites ultimately booked their stay with them.
According to Melanson, while the first challenge for marketers is navigating the large amount of sources of information, another challenge is taking a good look at the people who are utilizing this information. When marketers understand who is going where for what information, this can help them understand which consumers they are losing to different sites in the purchase journey.
"Think about it from both the customer and device perspective," Melanson says. "What is the customer trying to do at this stage in the journey, and is your content aligned with this?"
To download the entire report and view additional findings, click here.
Check out our infographic here
For more on our mobile stitching methodology, please see CMB's Chris Neal's webinar with Research Now: watch the webinar