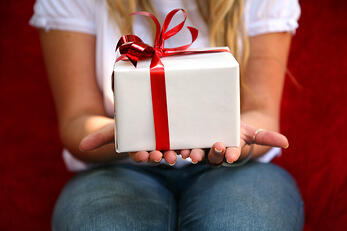 How many of you are always looking for another minute in the day? Or perhaps some of you want something new, but don't have time to get to a store? And how many others of you just simply hate going to brick and mortar stores? Stitch Fix, an online personal shopping stylist, is a service in which you set up a profile and pay a $20 styling fee to have five items shipped to your door. The styling fee is applied to the items you keep, and anything you don't want has to be sent back within three days (in the pre-paid postage package provided). The service appeals to those busy women needing convenience.
I ordered my first "fix" last December and loved it. Like the 70% of customers, I returned for a second time. Not only is this service convenient (after setting up your profile, you literally click a button to order your next fix and select a date), but it offers fairly reasonable prices. I get excited every time Stitch Fix sends me a box, and that excitement quickly accelerates or disappears after I see what's inside. While I loved every piece in my first fix, I've since had mixed results, loving and hating certain pieces.
Since launching in 2011, Stitch Fix has done several things right as it continues to build its brand and enhance the customer experience. Here are a few:
1. Knowing the target audience.
Stitch Fix does this well. Even though the company states that its customers range from teenagers to senior citizens, it realizes that busy women in their late twenties to thirties are its primary audience. This is why convenience is at the company's core. For busy women, the experience needs to be quick, easy, and stress-free, and Stitch Fix has been able to do just that. The company is also appealing to those women who take fashion risks, dislike brick and mortar shopping, look for the latest and greatest trends, and are perhaps less price sensitive than others.
2. Leveraging word of mouth and building advocates.
An integral part of this service is its referral code system. The referral codes allow customers to earn $25 toward another fix if a friend uses the referral code for her first fix. I have seen countless friends post about Stitch Fix online. Even I have told some friends about the service—especially when I receive a compliment on one of my Stitch Fix pieces—so it doesn't surprise me that word of mouth referrals account for 95% of Stitch Fix's new customers.
3. Listening customers and making adjustments.
Several months ago, Stich Fix began to get a lot of publicity. Thus, demand increased and wait times became significantly longer. The company quickly realized that this resulted in a not-so-positive customer experience, so it expanded its team of stylists and shipment centers, which ultimately reduced wait times. Stitch Fix's goal is to provide the best possible "fix" for each customer, so it continues to encourage customers to communicate through a variety of ways such as writing notes to stylists, setting up a Pinterest board to show pieces you like, and sending specific feedback on the clothing pieces you receive.
It's not difficult to see that Stitch Fix has no shortage of data to analyze or algorithms to apply when determining which pieces customers will enjoy, but it doesn't rely solely on the data. It takes the data and combines it with the expertise of a stylist. In the market research world, I see this as the delicate blend of art and science.
It's been a few months since I've gotten a fix, and with the season change, it's about time I click that button to order my next one!
Amy is an Account Director and a mother of two small kids, which makes her an ideal target for this service. She's willing to give her Stitch Fix referral code to anyone who wants to try it.
New Webinar: The New Hotel Path to Purchase: The Mobile, Social, and Online Journey – As part of CMB's Consumer Pulse program, we asked 2,000 leisure travelers to share their journey from awareness to booking. This webinar will give insight into the role of mobile, apps, customer reviews, and social media.