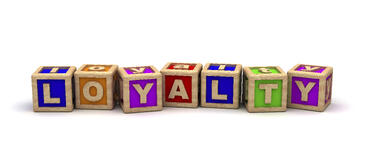 An old friend recently remarked how crazy it is that I've been at the same company for over 16 years (and I'm not even that old!). I hadn't really thought it was a big deal, but among my peers, I'm an outlier. A recent article claims Millennials are putting a "time-limit" on their time at a company—91% expect to stay in a job for less than three years. Kids these days!Of course, economic, cultural, and social reasons all play into the shift away from long-term employee tenure. But when I think about why I've stayed at CMB, I keep coming back to the role loyalty plays. If employers want to keep and grow their most valued employees in an increasingly competitive job market, they need to take a lesson from the brand loyalty playbook. Here are 5 principles worth developing:
Value:
If you want your smart, curious, and driven employees to stay, you need to offer opportunities to keep their skills fresh and relevant. When I was interviewing at CMB out of grad school, I was excited that analysts were exposed to all aspects of project work (sampling, questionnaire design, data collection, reporting, and analysis). Over the years, we've also developed the CMB University (CMBU) program, which includes weekly seminars on the latest techniques, case studies, and innovations. All this emphasis on staying competitive means I'm never bored and my skillset is constantly refreshed.
Pride:
It doesn't matter whether your company is a small firm, a global giant, or somewhere in between—employees who are proud of their work and their culture are going to stick around. Just this past year, CMB was named to the AMA Gold Top 50 US Market Research Organizations and the 2014 Top 100 Women-Led Business in Massachusetts by the Boston Globe. I take pride in knowing my contributions to the company (small and large) helped win these awards. Bottom line: as an organization grows, so does the degree to which an employee can thrive.
Advocacy:
Word of mouth is an essential component to hiring and sustaining a good employee base, as well as for promoting a brand. When employees feel valued by an organization, they're going to tell family and friends. The key is to leverage that advocacy to work in favor of the organization. At CMB, there is a referral program. Our employees are the face of our company, and our referral program encourages employees to reach out to peers as potential candidates and talk about their positive experiences at CMB.
Passion:
79% of Millennials say it's more important to genuinely enjoy their job than to make a lot of money. They want to love what they are doing and not just see it as work. I am a data dork and proud of it. Syntax, formulas, advanced design, efficiencies gained when brainstorming with colleagues—love 'em all! My passion is digging into the data, wrapping my head around a problem, and troubleshooting . . . all of which come with my role as a data manager.
But during my time at CMB, it's not just the work I've enjoyed, it's the sense of community. There's a camaraderie in our work environment—we work hard together, and then we play together. Throughout my years here, I've been privileged to form friendships in addition to great working relationships.
Trust:
Loyalty is definitely a two-way street—when an organization believes in you, it really inspires you to believe in the organization. As an employee, you have confidence that the company will do right by you and that you will earn both hard benefits (401K, health insurance, vacation, etc.) and soft benefits (flexibility of hours, virtual commuting, working from home when you are sick, etc.). Having a 401(k) is important, but retirement plans are offered at most companies in some form or another. Here's what really makes me happy: not missing my child's first grade holiday concert, and CMB makes sure I won't.
So after almost two decades at the same organization, maybe I am an exception . . . but I wouldn't have it any other way.
Laurie McCarthy is a Senior Data Manager, and she has been with CMB for over 16 years. She's had 9 desks, sat on 4 floors, had 2 kids, and has gotten married once.
Want to join our team? Check out our current openings.