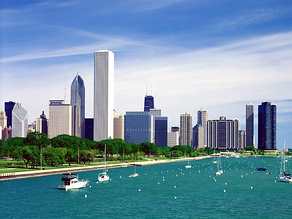 I've settled back into my routine at the office, and I've been reflecting on what I got from the recent Shopper Insights Conference in Chicago. I re-connected with old colleagues, and made new connections; so that makes the conference a success in my mind. But there were also some definite standouts I want to share:
A Group Lunch with former P&G CEO A.G. Lafley

– I was fortunate enough to be invited to a lunch with A.G. Lafley. I was struck by his approachability, easy conversation style, and seemingly simple approach to leadership and innovation. I asked him about timelines for innovation and after a great deal of sincere reflection said we could talk all day on the topic (he didn't accept my offer to do so)! We considered the difference between trends, which must be timely, and innovation, which requires experimentation, engineering, design, research, re-engineering, re-designing, etc. Ultimately, innovation isn't trendy, it's methodical, collaborative, and it takes time (up to six years for a new Pampers product)! I saw one as proxy for the other, but now understand how different they are.
Path to Purchase

– There was a lot of insightful discussion of Consumer Insights vs. Shopper Insights. Same person, different roles. It reminded me of when a Director at a large corporation said 'I know beer drinkers really well, but I hardly know anything about shopping for beer'. This is a great distinction and great focus for the industry.
Overheard

– "I feel like I'm in the 50's." My first reaction was "huh?" But then I considered there might be some truth there. On one hand, I listened to keynote speakers talk about advancements in neuroscience and its relationship to decision making. On the other hand, several presenters recommended tried and true methods of research, e.g. virtual reality doesn't trump ethnography. As I stood in line to buy a hard copy book and have my charge card run through a manual card imprinter, I thought back to that 50's comment. CPG and Retail have innovated tremendously, bringing us a steady stream of exciting new products and store formats. So why is there still lingering doubt about embracing new methods of research? I think the answer may lie with respect, respect for an industry that is innovative if not trendy. It's easy to throw innovation into a mission statement or corporate report, but embedding it into a methodical, engineered, and collaborative process is very hard to achieve. For every new product out there, and every creative new store design, there is a history of smart people working together to bring it to market. Innovation is in the wings, together with R&D, but it is not absent.
Holistic approach for a Win-Win

– One of my favorite sessions (besides CMB's presentation with Electronic Arts!), was presented by Bob Goodpaster from Hershey. He showed how they are partnering with retailers to bring useable insights to their retail partners, often in the candy department, but also beyond. Their broad scope, analytic team and collaborative approach were impressive.
Weigh in? What did you take away? I'd love to hear from you!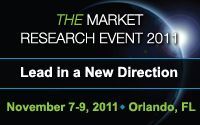 Are you planning on going to TMRE? CMB is an event sponsor and presenter at the conference. Feel free to use the code: TMRE11CMB when you register for a discounted price. We hope to see you there. Learn more about the conference here.
Posted by Kathy Ofsthun. Kathy is an Account Director at CMB. She is training for a late summer triathlon and likes to hike in the Green Mountains of Vermont!