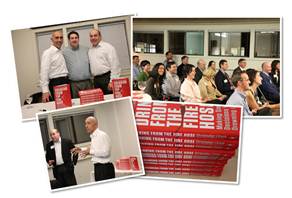 Last week CMB hosted Chris Frank and Paul Magnone, authors of Drinking from the Fire Hose, at our Boston office and invited our local clients to join us. Chris, Vice President at American Express responsible for advertising, brand, and business-to-business research, and is a long-time CMB client. Paul added the internal client perspective to the discussion, having been a consumer of research at IBM for 21 years and now heading business development and alliances at Openet. As the book's title implies, the conversation centered on how to sort through the massive amount of data we, as researchers, are confronted with to get to that moment of truth.
As it turns out, it is not about the information, but about asking the right questions. The book outlines seven "essential questions" that will keep you focused on only the information that you need. The first question is "What is the one vital piece of information needed to move forward?" That may sound obvious, but during the discussion we heard from many of our clients that identifying and focusing on what really matters isn't easy. The challenge is to re-focus clients on the business decisions being made. As we heard from Chris, Paul, and our clients, this requires a major effort.
Focusing not only on why you need the information but what you are going to do with it is also key. One of my favorite stories of the evening was about an internal client who was faced with the question "If the results of this research dictate it, will you close the business unit?" He retorted that if research came up with that result, then they were talking to the wrong people. With no intention of closing the business unit, it was clear he was asking for answers to questions that were not actionable.
It was interesting to hear the authors talk about what we at CMB call a "business decision focus." At CMB we spend a great deal of time helping our clients (and their internal clients) stay focused on the decisions that they are making with the story the data tells. It was exciting to hear how that simple focus can change the paradigm. It was a great event, and if you attended we hope you enjoyed it. If you were unable to attend, stay tuned, we'll be posting more highlights and video of the event. And of course we recommend reading the book.

Posted by Christine Gimber. Christine is an Account Executive with the Financial Services and Healthcare teams, and loves great questions, essential or otherwise. When she is not at CMB, you can find her running or biking, which also helps keep her in shape as she tries to keep up with her three small kids.