When you think about St. Patrick's Day, I bet food isn't the first thing that comes to mind. We reviewed online chatter over the past month and although the holiday isn't until tomorrow, we were surprised to see about twice as much discussion about St. Patrick's Day recipes and favorite dishes (66%) than about beverages (33%). Mentions of green beer, Guinness, and overindulgence are there, but far less than one might expect. How wholesome! Or more likely, we have captured planning for the festivities. Stay tuned for some interesting tweets on the 17th from holiday revelers!
The most traditional dish, corned beef & cabbage, was most top of mind but there was a virtual feast of chatter about food comprised of almost every category imaginable. Anything green (green pretzels, key lime pie, spinach quiche, hummus) is considered acceptable St. Patrick's Day fare. General discussion about recipes was prevalent; some specifically mentioned having found ideas for interesting dishes on Pinterest boards.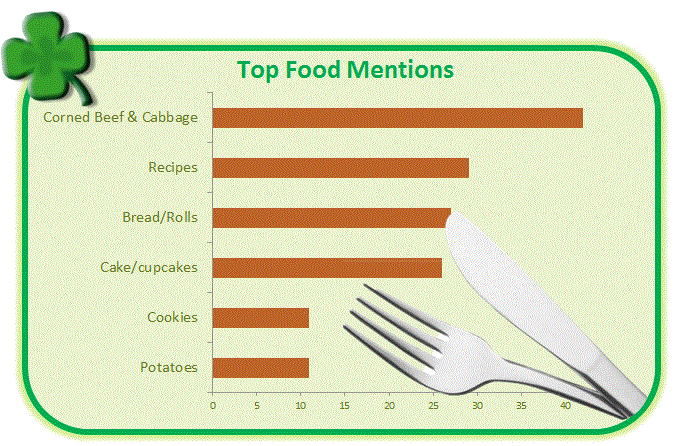 Aside from general mentions of drinking, the traditional Green Beer emerged as the most frequently mentioned St. Patrick's Day beverage. And just when you think you've seen it all, apparently some people color their wine green too…who knew?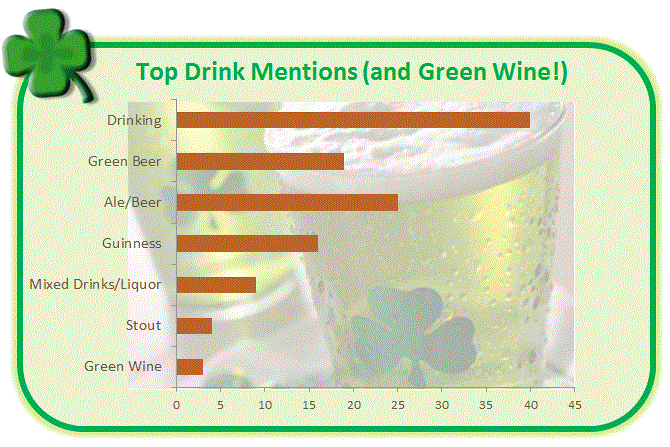 All of us at CMB want to wish you a festive and safe St. Patrick's Day.
In honor of St. Patrick's Day, I'd like to share my father's favorite Irish saying:
May those who love us, love us
And those that don't love us,
May God turn their hearts,
And if He doesn't turn their hearts,
May He turn their ankles
So we'll know them by their limping
Happy St. Patrick's Day!
Click here for more on our strategic approach to Social Media Research.
Posted by Cathy Harrison, Cathy is CMB's social media research maven and would never drink green wine. Follow her on Twitter at @VirtualMR