It's not the size of the venue; it's the quality of the content. That was the case for a local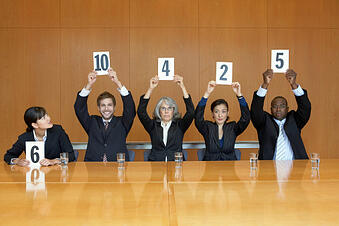 conference I attended last week at Babson College. Using Social Media to Redefine the Customer Value Proposition, was held by the Retail Supply Chain Institute in partnership with the Babson Alumni and Friends Network, and had an impressive lineup of speakers including executives from Google, Hubspot, Staples, Radian6, GaggleAMP, and EMC. The event was an opportunity for companies to share how they are leveraging advances in social media, mobile, and other online technologies to engage customers and increase loyalty. Here are a few of the highlights:
Dhruv Grewal, Toyota Chair of Commerce & Electronic Business and Professor of Marketing at Babson College, moderated and kicked off the event with an overview of how social media helps companies redefine their customer value proposition, moving it from a static proposition to a dynamic value proposition that is able to respond quickly to market changes. According to Professor Grewal, companies need to utilize the 4 E's of social media to:
Excite customers with interesting offerings to align their needs with your company's offerings

Educate them with information about your product offerings to increase share-of-wallet

Engage in a dialogue with them and their network to help differentiate your products from competitors'offerings

Help them Experience how your company's goods/services are better aligned with their needs
Mike Gottfried, Head of Industry, Retail at Google gave a great overview of the company's vision for the future and debunked the idea that Google+ was developed to be in direct competition with Facebook. He talked about Google's approach to mobile (predicting that soon more people will own smartphones than computers) and their commitment to launching new products and innovations, first on mobile and then on traditional platforms. He suggested that we not think of Google+ as a channel, but rather as a "common thread" for their product and services. Their mission is to organize the world's information and make it universally accessible and useful. According to Google, currently 1 in 5 desktop searches and 1 in 2 mobile searches are related to location. Information must be discoverable (meaning fast and relevant), local, mobile, social, and personal.
Mike Ewing, Senior Inbound Marketing Consultant, at Hubspot gave an overview of inbound commerce and how it is driven by three components: content, search, and social media. According to Mike, it starts with responding to how customers make decisions—when they show interest and a readiness to buy. He suggested that it is optimal for a company blog to be updated 2-3 times a week and create effective content by starting with the questions your customers are asking.
Kevin Biondi, Director of Digital and Technology Marketing, at Staples reviewed some of the elements of Staples' successful approach to digital marketing. Specifically, Kevin discussed the tremendous growth and impact of daily deals. In an effort to optimize their deals, Staples continually uses experimentation. Kevin suggested that while most companies tend to be risk averse, when it comes to social media, experimentation is the key to success.
Keith Paul, Chief Listener, at EMC, spoke about how they structure social media listening. EMC has a "spoke wheel" structure—and he heads up a social media center of excellence and provides guidance to several internal groups that use social media data. He spoke about ECN, a network that EMC created to connect 250k+ customers with product help. On the ECN site and YouTube, EMC has successfully utilized video to communicate their corporate social media policies in a highly engaging way. Another example Keith gave was EMC One, an internal network they use for collaboration. Keith shared that product launches are now announced online via social media and they "listen" to the market's response and increasing interest.
Thanks to one of our methodologists, Scott Motyka, who served on the conference planning committee and kindly invited me to attend.
Click here to read about more of our upcoming conferences, webinars and events
Posted by Cathy Harrison, Cathy is CMB's social media research maven. Follow her on Twitter at @VirtualMR