From the CMB Light the Night Team: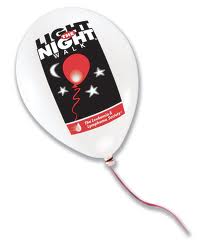 Last Thursday, CMB employees, friends, and family gathered for our annual Light the Night BBQ and silent auction to raise money for the Leukemia and Lymphoma Society (LLS). While the LLS supports research for millions of people around the world who suffer from blood cancer, we started participating in Light the Night for reasons a lot closer to home. In 2008, Catherine Shannon, our Director of Finance, was diagnosed with Hodgkin's Lymphoma. And when Catherine began what was to become two years of grueling treatment, CMB got walking.We went looking for creative ways to sponsor our team, and as luck would have it, CMBers aren't just talented market researchers. Our Field Services Manager Jared Huizenga is President of the New England Barbecue Society, and for the past 5 years, he's catered a full lunch including some seriously delicious pulled pork, corn bread, and macaroni and cheese, for over 60 enthusiastic ticketholders. This year, Jared started cooking at 4pm the afternoon before, eking out three hours of sleep, and showing us why he's a champion competitive griller.
The silent auction was another chance to show-off the secret, and not so secret skills of other CMB team members. There were dozens of things on offer, including two hours of landscaping from Jonah and Sean, tech help from technology gurus Abdullah and Marc, custom designed party invitations from Stephanie, and of course a whole range of foods—from full meals like Rich's chicken Vindaloo dinners and Tomoko's Japanese curry to delicacies like T.J.'s homemade cannoli and ravioli. All this eating (tough work) and bidding got us $4,000 closer to this year's goal of $18,000.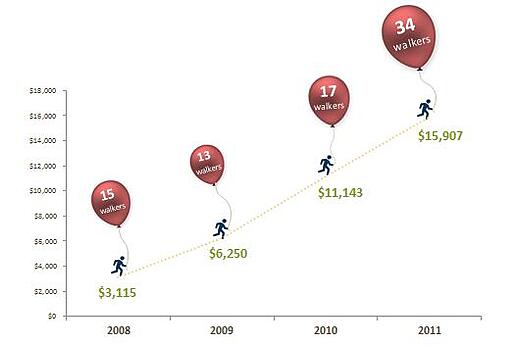 In the five years the CMB team has participated in the walk, we've raised over $36,000 and while it's one of our favorite times of the year at CMB, we never forget why we started walking. Due in no small part to the advances made in cancer research, Catherine has been in remission for 2+ years. We want to help more families have happy outcomes. The LLS funds research with the goal of curing blood cancer and at the same time provides support to patients and their families.
From the LLS website: When LLS was founded in 1949, a blood cancer diagnosis was almost always fatal. Thanks in part to innovative research funded by LLS, survival rates have doubled, tripled and even quadrupled for blood cancer patients. Today, cancer research in one area helps across all types of cancers. One example of this is the approval of the revolutionary drug Gleevac. The 10-year survival rate for certain blood cancer patients improved from 1 in 10 to nearly 9 in 10. Gleevac is also approved for patients with rare skin and stomach tumors, and is showing promise in many other cancers.
Help in the fight against cancer by donating to our team. Please click on the link below and give what you can. Every dollar helps. We want to kick cancer's butt!
The CMB Light the Night Team Page
Posted by Senior PM Lynne Castronuovo, Director of Finance Catherine Shannon, Office Manager Adrianne Economu, and Senior Associate Sean Kearney, who are constantly thinking up new ways to help us Light the Night.