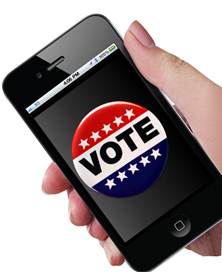 As a market researcher, there are times I can't help but look at the upcoming presidential election as the ultimate marketing campaign. A successful political campaign often adapts many of the same strategies used by marketers, and just as savvy marketers have adapted their campaigns to the overwhelming number of Americans who own a mobile device, our candidates have strategically followed suit.Due to the overwhelming and increasing number of voters who own smartphones, it's easy to see why politicians today are placing so much importance on taking their campaigns mobile. A study released this month by the Pew Research Center found that 88% of registered voters own a cell phone, and roughly half (48%) of these folks own a smartphone. Of the registered voters who own a cell phone, 27% have used it to stay up to date on the 2012 election or politics in general.
The rise in mobile phone ownership has created opportunities for both the Obama and Romney campaigns to increase exposure in hopes of gaining voters, and one of the biggest ways our presidential hopefuls are getting their message out is through mobile advertising. During this election, both campaigns and their supporters are expected to spend about $159 million on internet ads alone, and it's expected that mobile advertising will consume a large portion of their online advertising budgets. The Obama campaign has focused much of this mobile ad spending on an online Google advertising platform, while the Romney campaign has invested heavily into iAd; Apple's mobile advertising platform made especially for its products including the iPhone, iPod Touch, and iPad. This type of advertising has been used extensively to augment existing television ad campaigns and to encourage voters to visit campaign websites.
The campaigns are also using mobile devices in their fundraising efforts and to keep supporters updated on campaign news and events. Supporters can easily donate to their favored politician at campaign events by swiping their credit cards on mobile payment platforms like Square; a portable credit card machine that attaches to most mobile devices and can quickly accept electronic payments. Campaign supporters who have their credit card already on file can also text to donate to either campaign—a major benefit because the less onerous the payment process the more likely people are to donate.
When supporters aren't at fundraising events or texting donations to their favored politician, they can stay connected to the election using their favorite mobile application. Romney supporters can use their iPhones to upload pro-Romney images to Twitter and Facebook, order tickets to see him speak, and stay updated on campaign news and information, while Obama supporters can use an app to check out ways to get involved with the campaign locally. The Obama for America app enables anyone to look up information regarding news, events, community activities, volunteer activities, the President's policies, as well as information on how to vote. Of course voters needn't limit themselves to partisan apps; there have been ample opportunities for voters to search for information on their own—the Pew study found 35% of smartphone owners have used their phone to fact check a campaign or candidate this election season.
Just four years ago, the internet played a critical (and much discussed) role in organizing, informing and motivating voters. mobile technology deepens and expands this impact— facts can be checked on the spot, polls conducted, and prospective voters reached anywhere they take their phone. Raise your hand if you had your phone out while you watched the debates. And who knows, maybe someday we'll be able to secretly text our votes instead of filling in a box or pulling a lever.
Kathleen is CMB's Field Services Associate. She wants to make sure you get off your phone and vote on November 6th!
For more on how mobile is changing consumer behaviors, check out our Consumer Pulse: The New Banking Value Proposition.