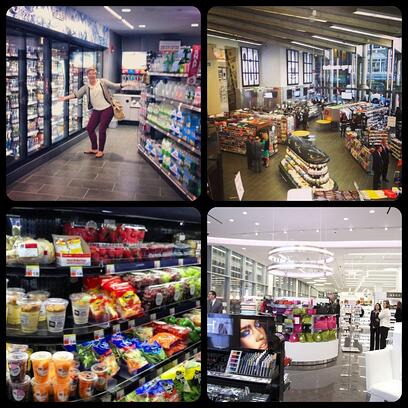 Over the last year I'd heard rumors of a new "super" Walgreens coming to Downtown Boston. To be honest, it sounded a little odd: a Walgreens with a sushi bar? A nail salon? But sure enough, one sunny day in May, a coworker announced the giant Walgreens had finally opened; of course I had to check it out. The moment I opened the doors I was like a kid on Christmas morning—this is not your mother's Walgreens.
The aisles were brightly lit, and everything was clean and well organized, but what really blew my mind were all the high-end amenities: a juice bar, frozen yogurt bar, fresh sushi, and a pharmacy that looks more like a very nice health center than a regular old pharmacy area.
It's certainly not how most of us perceive the Walgreens brand; but it's all part of their efforts to transform the customer experience and they're doing it in a number of really interesting ways:
An innovative approach to the community pharmacy and health services—Like most drugstores, Walgreens' traditional stores are split between retail and pharmacy/health care services. In the new store model, there is a health and wellness wing, including consultation rooms where pharmacists and other healthcare professionals come out from behind the counter to speak privately with customers. New patient-facing "portals" allow customers to schedule appointments, access information, and share health contacts—empowering customers in the way the old model never has.
Integrating the wellness focus throughout the store—Not surprisingly, Walgreens reimagined pharmacy is getting most of the press, and it's well-deserved. But I was also struck by how the company highlighted healthier food and beauty options in each department. At first, doing your food shopping at a drugstore sounds both unappealing and unhealthy—all processed food and junk, but if others follow Walgreens lead, that might change. While the juice and sushi bars might have seemed at best gimmicky, and at worst like a health hazard, the holistic focus on wellness and health means that what might have seemed unimaginable (drugstore sushi?) really starts to make sense. I swear the sashimi was actually good!
Getting mobile—Walgreens' new concept also does a great job leveraging mobile to transform and improve the customer experience across departments. For instance, you can scan your prescription bottle to get a refill. That might seem like a no-brainer in this day and age but how many of us are still calling our pharmacy's automated hotline?

And hard as it may seem to believe, not everyone just posts all their pictures to Facebook, Walgreens' QuickPrint option lets customers print their pics right from the phone they took them on. It's a smart move for a company that realizes the drugstore photo lab may not be with us forever.
As Walgreens President and Chief Executive Officer Gregory D. Wasson puts it: "We are taking a multi-pronged approach to delivering the Well Experience. We are combining leading-edge design with enhanced products and services, increased engagement with team members and customers, and an omni-channel approach that blends our brick-and-mortar stores with e-commerce and mobile commerce. We are deliberately blurring many retail channels to fit how consumers shop today."
Bravo Mr. Wasson, bravo.
I'm looking forward to seeing what other benefits are in store for Walgreens customers. But in the meantime, I'll have plenty to explore at the new, impeccably designed, Super Walgreens. And for all my fellow Bostonians, the next time you need to pick up a birthday card, wine, or health and beauty products, I suggest you make a trip Downtown.
Posted by Stephanie Kimball. Stephanie is CMB's Marketing Operations Manager and loves any and all sports, the beach, traveling, marketing, good food, and is always down for a movie night. You can follow her on twitter @SKBalls
See how CMB is helping Royal Caribbean measure guest experience and improve customer satisfaction and retention. Click here.