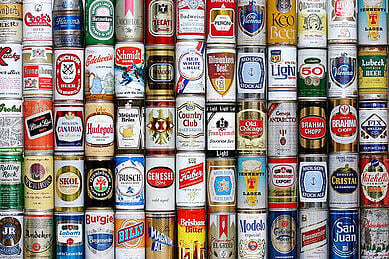 Last week my Facebook feed was filled with tragic news. The Alchemist Brewery, in Waterbury, Vermont (where I happen to live), is closing its retail store—no more dropping in to taste their beloved Heady Topper. Luckily, my fellow craft beer lovers can find some solace in the fact that while the retail space will close, the brewery will turn their focus to canning the delicious brew. But not too long ago the only canned beers you could get were decidedly not craft—they were mostly watery domestic lagers without a hop in sight. However, if you've been to a liquor store in the past few years you've probably noticed nearly every style of beer can be found in cans. In fact, a number of domestic standards have also changed the look and feel of their cans—there are bow-tie shaped cans, wide mouth cans, and cans that change color as the beer gets cold. It's a canned beer revolution!A decade spent in the Market Research industry changes the way you look at everyday things, like these changes to the beer market, so I decided to do a bit of secondary research. First, I wanted to understand what motivates people to purchase canned beer. The results of my highly unscientific online search are here:
Beer cans work better with outdoor lifestyles (hiking, boating, etc.)

Cans keep beer fresher

Canned beer weighs less/is easier to carry

It saves money on packaging and shipping

Cans block light which is destructive to all the things that make beer so tasty

Cans are sturdier (won't break in your cooler during your road trips)

Cans chill faster and keep beer colder

Cans are easier to recycle

Their favorite retail beer store closes (n=1)
So canning is great idea, right? In 2002 just one craft brewery canned their beer, now there are roughly 330 different craft breweries canning a little over 1,000 different brews. But, when I asked many of my fellow Vermonters whether they'd drink their craft beer from a can, I was told "no, that ruins the taste."
Ah, the taste…which is the reason aficionados buy craft beer in the first place. Luckily, the brewers of Sam Adams have been relentlessly pursuing beer can innovation, breaking down the key barrier that is that metallic taste. Just this summer, they debuted the SamCan:
"the result of two years of ergonomic and sensory research and testing…the new can design aims to provide a drinking experience that is a little closer to the taste and comfort of drinking beer from a glass. What you'll notice: The larger, wider lid helps open your mouth allowing for more air flow during the drinking experience. The can opening is located slightly farther away from the edge of the lid, placing it closer to the drinker's nose to help accentuate the hop aromas. The hourglass ridge creates turbulence (like our patented Perfect Pint glass) which "pushes flavor out of the beer" and the extended lip places the beer at the front of your palate to maximize enjoyment of the sweetness from the malt."
The amazing thing is, that despite their research investment, Jim Koch, the co-founder and chairman of the Boston Beer Company, the producers of Samuel Adams, announced that they plan to "make the patent-pending design available, without any royalty or license fee, to all craft brewers who would like to use this can."
That's great news for this Vermonter, who will continue to buy my craft brews in a can because let's face it, it's much easier to hike with backpack filled with canned beer than it is to carry a bottle.
Sam is a Data Manager at CMB, she loves hiking the green mountains of Vermont with or without a tasty brew.
CMB is observing #Movember with some awesome mustachery. Check out the hairy competition here.