Despite some debate over the value of Enterprise Social Software tools, their use has taken off. In 2010, Gartner, Inc. went as far as predicting the near term replacement of email by social networking services. The lure of a tool that is low cost, simple to use, and that taps into the explosion of mobile devices promises to be collaboration on steroids.
In our recent Tech Pulse survey of over 200 IT professionals, nearly one-third are currently using some type of enterprise social networking tools already, and an additional one-fifth plan to start soon. Not surprisingly, usage is highest at larger companies, where the actual need is greatest.
IT Departments, which are starting to catch up to this employee-led train and take ownership of it, typically prefer social networking features integrated into core software applications already in use at the organization, as opposed to horizontal, purpose-built enterprise social networking platforms (three-quarters of IT departments prefer this). IT departments are dealing with application sprawl already. Any time a trusted incumbent vendor gives them a way to meet their employee needs without adding an entirely different application (and vendor) to their environment that may not have well-developed APIs with their existing applications: they'll take it.
Which applications have the most demand for integration of enterprise social networking tools?
Some of the biggest users of these tools—not surprisingly—will be from Marketing and Sales. This group of enterprise users will likely benefit from integration of social networking tools for CRM, SFA, and other marketing-related applications. Customer Service departments are also high on this list: large companies striving for greater customer-centricity have a clear need to get all parts of the company dealing with customer touch-points more effectively collaborating with one another.
Internal IT management and IT help desk functions were also high on the list of departments that would benefit from enterprise social networking. IT departments are not only catching up to this trend; they're using it themselves as Gen Y and Millenials increasingly start to populate the profession.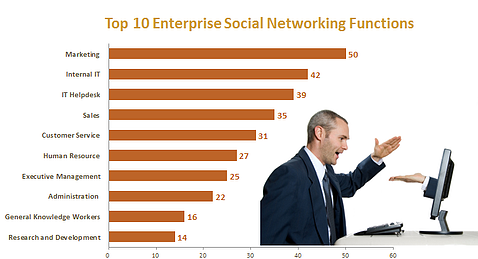 Which enterprise social networking tools are IT Professionals using/considering?
IT departments generally prefer company names from large application providers they already use. The top mentions for social networking tools currently being used include Microsoft's Office Talk, Cisco's Pulse/Quad, and IBM's Connections. These same tools are top mentions for tools they are planning to use in the near future.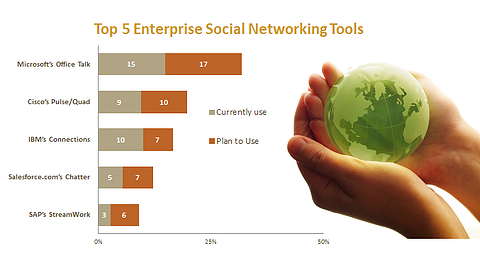 Things for Enterprise Social Networking Pure-Plays to Consider:
Don't Skimp on APIs: Having tight, well architected integration with major enterprise applications already in use is absolutely essential to getting companies to bring on a new vendor…especially the larger companies that are the earlier adopters of these systems. Jive is already attacking this barrier by increasing the degree of integration its tool has with applications like SharePoint. If these firms invest in tighter integration with applications that matter to these IT Professionals in a social networking context, (e.g., Customer Service, IT help desk, and Internal IT), they are likely to gain greater attention.

IT Departments Need Some Convincing: Not having the benefit of incumbency and inertia, pure-play enterprise social networking companies must be amply prepared to counter objections they are going to face from IT departments that—while this might not be the place they initially target their sales efforts—they will ultimately need to gain the central IT stamp of approval in order to close the deal.
Things for Other Enterprise Application Vendors to Consider:
Consider developing integrated social networking capabilities into the next release of your software: especially if you sell to larger companies and/or to departments within companies that are most open to using enterprise social networking. IT Departments, for one, will be compelled to pay a little bit more for these extra integrated functionalities and be done with it rather than overlaying a completely separate third-party solution that may bring its own set of integration and IT management headaches.

Play nice with other enterprise social networking vendors: especially if you do not have the resources or decide not to develop your own social networking capabilities—the ease with which your product integrates with some of the major enterprise social networking tools may soon become a check-list item in the evaluation process for your category. Helping develop easier integration with other social networking platforms is a defensive move that could prevent some future churn of existing accounts when it comes time to renew agreements.

Download our TechPulse on Cloud Computing Trends here.
Posted by Chris Neal. Chris leads CMB's Tech Practice. He enjoys spending time with his two kids and rock climbing.