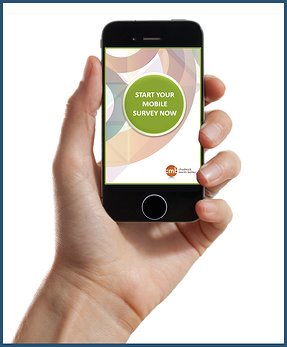 Are you conducting research among mobile respondents yet? Autumn is conference season, and 1,000 of us just returned from IIR's The Market Research Event (TMRE) conference where we learned, among other things, about research among mobile survey takers. Currently, only about 5% of the market research industry spend is for research conducted on a smartphone, 80% is online, and 15% is everything else (telephone and paper-based). Because mobile research is projected to be 20% of the industry spend in the coming years, we all need to understand the risks and opportunities of using mobile surveys.
Below, you'll find three recent conference presentations that discussed new and fresh approaches to mobile research as well as some things to watch out for if you decide to go the mobile route.
1. At IIR TMRE, Anisha Hundiwal, the Director of U.S. Consumer and Business Insights for McDonald's, and Jim Lane from Directions Research Inc. (DRI) did not disappoint. They co-presented the research they had done to understand the strengths of half a dozen national and regional coffee brands, including Newman's Coffee (the coffee that McDonald's serves), around 48 brand attributes. While they did share some compelling results, Anisha and Jim's presentation primarily focused on the methodology they used. Here is my paraphrase of the approach they took:
They used a traditional 25 minute, full-length online study among traditional computer/laptop respondents who met the screening criteria (U.S. and Europe, age, gender, etc.), measuring a half dozen brands and approximately 48 brand attributes. They then analyzed results of the full-length study and conducted a key driver analysis.
Next, they administered the study using a mobile app for mobile survey takers among similar respondents who met the same screening criteria. They also dropped the survey length to 10 minutes, tested a narrower set of brands (3 instead of 6), and winnowed the attributes from ~48 to ~14. They made informed choices about which attributes to include based on their key driver analysis (key drivers to overall equity, and I believe I heard them say they added in some attributes that were highly polarizing).
Then, they compared mobile respondent results to the traditional online survey results. Anisha and Jim discussed key challenges we all face as we begin to adapt to smartphone respondent research. For example, they tinkered with rating scales and slide bars by setting the bar on the far left at 0 on a 0-100 rating scale for some respondents and then setting it at the mid-point for others to see if results would be different. While the overall brand results were about the same, the sections of the rating scales respondents used differed. Further, they reported that it was hard to compare detailed results for online and mobile because different parts of the rating scales were used in general. Finally, they reported that the winnowed attribute and brand lists made insights less rich than the online survey results.
2. At the MRA Corporate Researcher's conference in September, Ryan Backer, Global Insights for Emerging Tech at General Mills, also very clearly articulated several early learnings in the emerging category of mobile surveys. He said that 80% of General Mills' research team has conducted at least one smartphone respondent study. (Think about that and wonder out loud, "should I at least dip my toe into this smartphone research?") He provides a laundry list of the challenges they faced and, like all true innovators, he was willing to share his challenges because it helps him continue to innovate. You can read a full synopsis here.
3. Chadwick Martin Bailey was a finalist for the NGMR Disruptive Innovation Award at the IIR TMRE conference. We partnered with Research Now for a presentation on modularizing surveys for mobile respondents at an earlier IIR conference and then turned the presentation into a webinar. CMB used a modularized technique in which a 20 minute survey was deconstructed into 3 partial surveys with key overlaps. After fielding the research among mobile survey takers, CMB used some designer analytics (warning, probably don't do this without a resident PhD) to 'stitch' and 'impute' the results. In this conference presentation turned webinar, CMB talks about the pros and cons of this approach.
Conferences are a great way to connect with early adopters of new research methods. So, when you're considering adopting new research methods such as mobile surveys, allocate time to see what those who have gone before you have learned!
Julie blogs for GreenBook, ResearchAccess, and CMB. She's an inspired participant, amplifier, socializer, and spotter in the twitter #mrx community so talk research with her @julie1research.