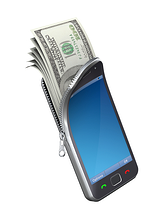 Last week we released our latest CMB Consumer Pulse study shedding light on consumers' perspective around mobile banking. The most interesting finding to me is around where the new growth will come from in this market and it's not from current smartphone owners.
Among those who have a smartphone, but aren't conducting mobile banking…they aren't likely to start anytime soon –mainly due to security concerns or the fact that they just don't value the convenience. On the other hand, of those likely to buy a smartphone, many (about two in five) are likely to begin mobile banking once the phone is in their hands.
The reality is mobile banking among current smartphone owners has essentially plateaued. For the most part, people with experience using these devices have already made up their minds. Is it possible to convince them otherwise? Maybe, but why not go for those consumers who are ready and willing, just not able, unless of course banks give them to tools they need…
There's a group out there that's ready to bank on their smartphones in the very near future – no questions asked. Given how affordable smartphones have become (you've seen the Apple commercials for the $50 iPhone 3GS), it's worth considering partnered promotions to draw new smartphone buyers to the bank.
Instead of focusing on the smartphone/tablet owners who have just not bought in to mobile banking, why not go for the lower hanging fruit and focus on those that have bought in but need the technology to make it happen?
Posted by Jim Garrity. Jim Garrity is VP of CMB's Financial Services practice, never wears blue jeans to work, and loves the convenience of banking.
Download our recent Consumer Pulse report: A Consumer Perspective on Mobile Banking. It looks at how smartphone and tablet owners are conducting mobile banking and transactions on their mobile device.