I heard great things about the Shopper Insights conference in Chicago a few weeks ago. While I couldn't attend, others from CMB said the conference had a great vibe, and was filled with excitement and information about the latest trends in the shopping experience. One of the major takeaways was that the combination of customers' shopping preferences and new technologies continues to drive change in the retail shopping experience. We've seen this first hand in our Consumer Pulse detailing how smartphones are changing the retail experience.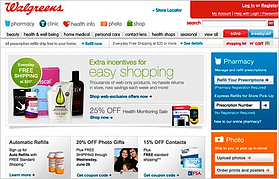 Appropriately enough, and just in time for the conference in Chicago, I read an article in Marketing Daily about Walgreens new "Pick Up Today" service rolling out in Chicago. We have seen this multichannel trend in other retailers like Wal-Mart and Best Buy and at many grocery stores, but this is the first I have seen for a pharmacy. This really caught my eye as my focus is on the healthcare industry and we recently looked at consumer digital communications trends in the healthcare market.
Walgreens is timing things right - our research shows one-third of consumers are already communicating with their pharmacy digitally (through websites, email, portals, or mobile apps). And it's not just the young, 36% of those over the age of 50 say they're communicating with their pharmacy digitally. For now most are simply refilling a prescription or asking a question, but this is another opportunity for a customer touch point. While 31% of consumers say they are currently communicating digitally with their pharmacy, 76% say they expect to communicate digitally with their pharmacy in the future.
With only 16% of consumers saying they would never communicate digitally with their pharmacy, health insurer, or provider, the trend is clear. Consumers have certain expectations with regard to digital communications based on what they've done in other industries. It seems like there is a lot of potential here for pharmacies and other healthcare companies (e.g., insurers, providers) and security is really not an issue for consumers even with topics such as prescription drugs and health-related issues.
So I ask those healthcare companies out there….are you prepared for what consumers expect to be able to do digitally in the future?

Download the CMB Consumer Pulse report sharing the consumers' perspective around digital communications with their healthcare providers. Download the report.
Posted by Amy Modini. Amy is an Account Director for CMB's Healthcare Practice and enjoys spending time at the beach and trying to keep up with her almost two year old son.