This week we released a new Consumer Pulse report highlighting 10 Quick Facts You Should Know About Facebook. In collaboration with our friends at Constant Contact, we asked nearly 1,500 Americans over 18 about their Facebook habits. While it may not surprise you that 75% of American adults who go online have used Facebook, how they use the site to connect with companies and brands just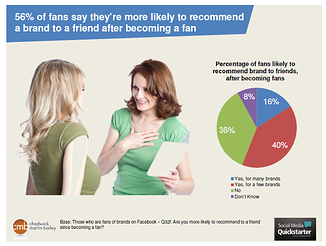 might. Here are a few of my favorite facts:
56% of consumers said they are more likely to recommend a brand to a friend after becoming a fan on Facebook (tweet this)
Mark Schmulen @mschmulen, Constant Contact's GM of social media and I were chatting a lot about this point. I loved that Mark calls Facebook a "recommendation engine," I couldn't agree more. While I would normally think of Yelp and other online review sites, Facebook is playing a big role in today's social word of mouth and is indeed becoming a recommendation engine. Facebook users are not only creating a more personal relationship with a brand, they're sharing that relationship with their friends and family. Brands have the opportunity to deepen and better relationships with consumers even after they've gotten their "thumbs up" on Facebook.
78% of consumers who "Like" brands on Facebook said they "Like" fewer than ten brands (tweet this)
Those who choose to fan a brand don't do it to every brand that catches their eye. As consumers we tend to like brands we feel connected to and are happy to put our name against. Sure we have all different motivations for liking a brand from discounts and coupons to showing our support, but the good news is for the most part when we like a brand we tend to keep it that way; 76% of Facebook fans say they've never "un-liked" a brand.
45% of consumers said they spend most of their time on Facebook in the newsfeed (tweet this)
As a marketer I think this is one of the most important points to understand. A key ingredient to successful marketing on Facebook is consistently posting in the newsfeed. The research tells us 77% of those who are fans of a brand spend their time in the newsfeed. This is the opportunity brands have to engage in a two way conversation. Listen to what your fans are saying and contribute to the conversation.
Tremendous opportunities wait for brands that can provide engaging content and conversations with their fans. The chance to create a base of loyal, influential, and active consumers is too good to pass up for businesses of any size. I'd love to hear how you engage with brands as a Facebook user, and how your company makes its Facebook presence known.
Download the full report: 10 Quick Facts You Should Know About Consumer Behavior
Posted by Kristen Garvey. Kristen is CMB's VP of Marketing, a mom of two and she "likes" of The Wildflower Inn in Vermont because vacationing there was a great experience and she recommends it to friends all the time.