This weekend, my 10 year old Jack sat on our comfy couch with a big screen TV just feet way, but he chose to curl up with the iPad to watch his episode of Star Wars. In just a few clicks of the remote he could have watched it in HD on a beautiful big screen. I found myself wondering why. Was it a few clicks too many to reach On Demand? Was it just more convenient to pick up the iPad and watch his show in a few taps? There's no doubt consumer behavior is changing when it comes to how we watch TV and the big screen doesn't always win.
This week the Council for Research Excellence (CRE) released a study they commissioned Chadwick Martin Bailey to run to understand the impact of mobile media devices on overall TV viewing behavior. Next week Chris Neal, leader of CMB's Technology and Telecom practice will be joining Laura Cowan, research director at LIN Media and co-chair of the CRE's Media Consumption and Engagement Committee at the Advertising Research Foundation (ARF) Audience Measurement 8.0 conference to present the results. The conference takes place June 10-11, 2013 in New York City.
This study indicates that Jack is not alone in choosing the iPad over the big screen. In fact the study found the majority of "mobile" TV viewing occasions happen at home—82% of tablet TV viewing occasions happen in-home and even 64% of smartphone viewing occasions happen here. One of the key drivers of that choice is simply convenience: it's easy, the television set might be in use by someone else, and/or some consumers don't have the same online streaming capabilities to their TV that they have on mobile devices. Check out more results of the study here.
"Much of the TV being watched on mobile devices is currently being distributed by online subscription services (e.g., Netflix, Hulu)," according to Neal. "There are opportunities for networks, pay TV providers (e.g., cable, satellite, fiber) and content owners to boost their libraries available via mobile devices and make their mobile apps more compelling so they don't lose audience share as consumer viewing habits change."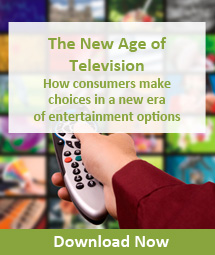 Interested in learning more? Check out the ARF Audience Measurement conference next week in New York and download CMB's self-funded research on this New Age of Television
Kristen is CMB's VP of Marketing, a mom of two, and enjoys streaming content through Amazon Prime on the rare occasion she can get her iPad from Jack. Follow her on Twitter: @KristenGarvey