Just as the news of Wegmans opening its first store in New England starts to settle, the excitement is ramping up all over again for a new "urban concept" store opening in Newton, MA. Since my husband first heard Wegmans was coming to MA he has been really looking forward to shopping there, I mean REALLY looking forward to shopping there. He even still has his shoppers club card from college (which was quite a few years ago I might add). And John is not alone in his love for Wegmans. I don't think I have ever seen so many people so passionate about a grocery store. You could almost compare it to the opening of an Apple store in the retail space. In fact, the Boston Globe and Boston Herald wrote about the supersized crowds who lined up at the crack of dawn to the new Northborough store. As a marketer, it's the kind of customer passion we all dream about.
Of course I had to go see for myself; and I do think it's one of those things you need to experience to "get it." As simple as it seems, it is a very pleasant shopping experience. I find myself slowing down there and dare I say even enjoying my shopping experience. From the gas fire place in the food court to their extremely helpful and friendly employees; Wegmans has the secret sauce in making their experience different:
Three key ingredients to Wegmans Secret Sauce
2 Cups of Engaged Employees: When I shopped in the new Northborough store it was hard not to notice how outgoing and friendly the staff was. It was clear to me Wegmans must invest a lot in making their employees happy. A happy and engaged employee makes such a huge impression. It was written on the smiles on their faces. When I was doing a little research for this post I was not surprised to find Wegmans has consistently won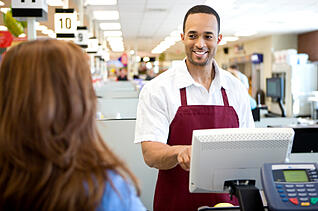 CNN/Money's Best Places work.
1 Cup of Senior Staff: Maybe this was because I was new, but I also noticed the store had a lot of senior staff ready to help if anyone (more junior employees or customers) had a question. They led by example by also being extremely friendly and asking me about my shopping experience.
1 Cup of a Great Shopping Experience: All of this contributes to an all-around better and more pleasant shopping experience. I admit I thought the customers waiting in line on opening day were a bit crazy, but after shopping there I can see what the fuss is about. I don't think I will be waiting in line at the opening of the Newton store, but I would drive out of my way to shop there. For me it just feels better shopping there. The quality of their products, the cleanliness and brightness of the store and that food court of fresh prepared food is amazing, but above all I feel better shopping at a store where the employees enjoy working.
The funny thing is my Wegmans experience reminds me a lot of CMB. We know our clients have lots of choices of where to shop for their research and we truly appreciate when the choose us. Often after that experience it becomes clear that the experience of working with CMB makes us different. I think we share the same recipe for the "Secret Sauce."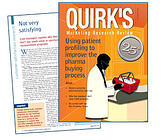 For more on the power of the customer experience and customer satisfaction, read T.J. Andre and Jeff McKenna's take on customer satisfaction in their article Not Very Satisfying in Quirks.
Posted by Kristen Garvey. Kristen is CMB's VP of Marketing, a mom of two and she will be heading to Wegmans to get her food and wine for the holidays. BTW if she's not back by 5 you may find her by the gas fireplace enjoying a cup of coffee and a few minutes to decompress from the holiday rush.