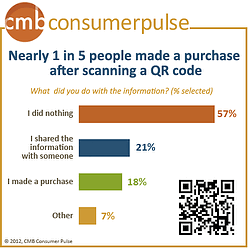 Seems like everywhere I turn I see a QR code. From product packaging to billboards in the airport, those funny little black and white designs are popping up all over—even on T shirts. So we set out to ask consumers what they think about the 2D bar codes known as Quick Response or QR codes in our latest Consumer Pulse: Scan Me-9 Things To Know about Consumer Behavior and QR codes.
There is no doubt it's a very cool tool brands and companies can use to engage and share information with consumers, but even the coolest tools and applications need to provide meaningful information to be successful. Just like Twitter, Facebook and other social media marketing tools it always comes back to insightful content that consumers will value. The success of QR codes will depend on the content behind the scan.
What do consumers think? CMB partnered with iModerate Research Technologies to see why consumers scan QR codes and what they expect from the little black and white squares.
As a marketer here are a few facts that stood out to me. Watch This:
Nearly 1 in 5 who scanned a QR code made a purchase after scanning (Tweet this)
81% say they've seen a QR code, but only 21% knew what they were called (Tweet this)
Half of smartphone users have scanned a QR code (Tweet this)
70% of those who scanned QR codes, said it was very easy (Tweet this)
Results are mixed on QR codes' usefulness, 41% say the information they got was useful (Tweet this)
Magazines and newspapers are the most common QR source for those who've scanned a code (Tweet this)
46% of those who've scanned a QR code did so because they were curious (Tweet this)
We found smartphone owners and non-smartphone owners alike are curious about QR codes for information and for discounts, free gifts and exclusive deals, and they find the process of scanning to be really easy. But as more and more consumers get smartphones and the ability to scan, marketers must go beyond the novelty of the application if they expect customers to scan again and make it a regular part of the purchase process.
I'd love to know, are QR codes part of your 2012 marketing plan? Will QR codes gain steam in 2012 or fizzle out?



Download the full report here.
Posted by Kristen Garvey. Kristen is CMB's VP of Marketing, a mom of two, and thinks QR codes can be as useful as the content behind them, and that they will have their place in the marketing toolbox for 2012.