Join us for CMB's first webinars of 2012!
Tools and Techniques: Mixing the Science of Quant with the Art of Conversation to Gain Richer Insights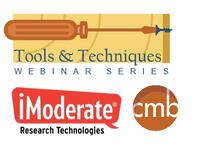 February 2nd from 12 to 12:30 pm
CMB's Jeff McKenna and Christine Tchoumba from iModerate Research Technologies share their tips and tricks for taking advantage of one-on-one online conversations to gain more insight from traditional research projects. Jeff and Christine will cover: the benefits of using online conversations to add color to quantitative, how the Consumer Pulse Program case study uses conversation to deepen insight into the most interesting consumer trends, and the challenges and considerations you need to be successful.
Turning Customers into Advocates: GE CareCredit Increases Customer Loyalty with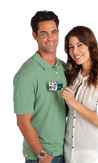 their Advisory Panel
February 16th from 12 to 12:45 pm
Learn how CMB helped GE CareCredit redesign their online customer panel, and create a community with high engagement and even higher returns. CMB's Vice President of Financial Services Jim Garrity and GE CareCredit's Consumer VOC Leader Sheila Dreyer share how GE CareCredit's online community of Cardholders has become a group of not only trusted advisors, but strong advocates for the brand.
For more of our upcoming webinars, and to download the ones you've missed, click here.
Posted by Megan McManaman, CMB's Content Marketing Manager.