I'm on record as saying that loyalty programs should focus on rewarding behaviors that have a direct financial benefit to the business (i.e., purchase, bookings, and sales). Because of this belief, I was staunchly opposed to the concept of giving loyalty members "points for tweets." But my thinking, like the role of social media in general, has evolved.
One reason for my change of heart is that 'social media' no longer just means Facebook or Twitter…it now includes location-based tools (like FourSquare) and connecting to people 'on the go' through mobile apps. This new revolution (according to those who name new revolutions!) is called SoLoMo (social, location, mobile) media.
Last month I led a panel discussion at the Loyalty Expo in Orlando on the role of social media in loyalty programs and it was clear from the start that we couldn't talk about social media without talking about mobile and location-based services (SoLoMo!). The loyalty lifecycle shown below provides a basis for understanding how SoLoMo tactics can support member engagement: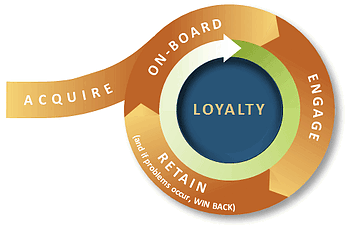 Acquire: To reach members that 'look like' your currently valuable members, Loyalty Marketers can use SoLoMo tools. Two recent examples of programs developed to get members/customers to talk about a company/program are offered by Tasti D-Lite and Caesars. TastiRewards incentivizes customers to associate their Twitter and Foursquare accounts with their Tasti D-Lite membership cards, posting a tweet or comment every time they order a delicious treat. Caesars recently relaunched Total Rewards, giving loyalty members points for tweets. These SoLoMo initiatives can drive program awareness and member acquisition.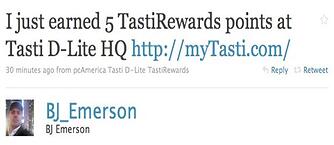 On-boarding: Facebook, Twitter and other online communities (gated or not) are ideal platforms to introduce customers to the 'loyalty club' to let these newbies learn from like-minded members—and, importantly, encouraging them to use their rewards, rather than just letting them languish in their wallets.

Engage: SoLoMo tools can be employed in a variety of ways to engage and strengthen relationships with current members. Here are some examples:
Making rewards more obtainable: Citi's rewards app lets cardholders 'pool' rewards so they can plan a joint purchase, trip, or even make a charitable donation to an organization they support

Surprise and delight your customers: Best Buy surprised (and no doubt delighted!) a few of its reward members with tickets to the Twilight movie premiere. Members were selected and invited based on past purchase history and spending potential.

Make rewards/currency more relevant: Companies like ifeelgoods are offering loyalty programs as an option to provide a social currency to reward member's behavior. With 240 million active monthly users on Zynga, there's a good chance at least some of your members would enjoy the opportunity to buy digital goods.

Retain and win back: While we don't suggest giving up traditional channels for monitoring and responding to customer service failures, social media can let you discover failures (and wins!) quickly and begin the customer recovery process.
The bottom line is, your customers are social, they use Facebook and other sites, and they expect businesses to not only have a presence but to engage. Sites like Facebook and Twitter are ideal platforms to engage and reward customers – particularly through SoLoMo tools. So I'd like to report that I've "come around," to see the value of social media for loyalty programs because of the opportunities they present to engage, and "surprise and delight" your most valuable customers.
Want to learn more about our approach to building Customer Loyalty? See how CMB helped GE CareCredit redesign their online customer advocacy panel, creating a community with high engagement and even higher returns. Watch the webinar.
Posted by Judy Melanson. Judy leads the Travel & Entertainment practice and loves collaborating with clients on driving customer loyalty. She's the mom of two teens and the wife of an oyster farmer. Follow Judy on Twitter at @Judy_LC