If you believe the news you might imagine Americans have a pretty low opinion of bankers. It seems cut and dried; the recession laid bare a lot of anger over banks' role in the economy's crash. But new insights from our Consumer Pulse research on banking approval, suggest bank customers' views are a bit more balanced. We asked over 1,400 bank and credit union customers how they felt about their primary bank and the industry as a whole.
We found that while it's true that most Americans aren't happy with the banking industry they are pretty happy with their own banks. This kind of discrepancy isn't shocking or unusual— Congress has abysmal approval ratings, but people tend to rank their own representatives quite highly, clearly personal experience counts for a great deal.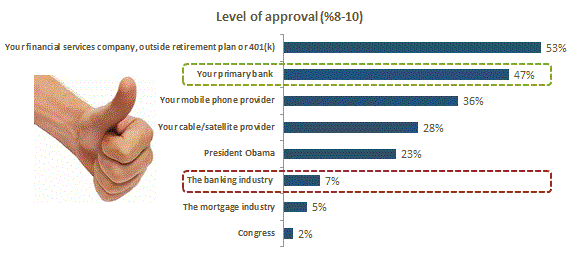 When we looked at customers' banking approval and experience we found some things worth noting:
Approval ratings vary by bank type. Community banks and credit unions were rated more highly than regional and large national banks, with credit union customers giving high marks to many elements of their banking experience, from fees and rates to commitment to the community and remote banking offerings. In fact 85% of credit union customers rated the value they got from their bank as "excellent."

As for what doesn't appear to impact approval ratings, those with household incomes under 50k gave just slightly higher approval (51%) to their banks, compared to those making 100k or more (47%).

Just 9% of customers who disapprove of their banks (and 2% of all respondents) say they're actively looking for a new bank, but willingness to make the switch also varies by bank type. A full 22% of regional bank customers who disapprove of their bank say they are actively looking for a new bank, versus only 7% of large bank customers. One explanation for this disparity is that while large banks are known for accessibility and product breadth, and small banks are recognized for personal service and lower fees; regional banks are often chosen for their proximity. And as we've seen in our previous Consumer Pulse research, increasingly that is not enough.
Wondering why customers so displeased with their bank, end up staying? Over half (54%) agree switching banks is a hassle.
Amidst the real anger and displeasure aimed at banks and the banking industry as a whole, the real message may be: don't underestimate the power of the customer's banking experience. Fewer than one in five of respondents agreed that "all banks are pretty much the same." This is good news for banks who can take the opportunity to differentiate themselves from the competition and from a terrible industry reputation.
Download The Future of the full-Service bank Branch here.

Posted by Jim Garrity, Jim is Managing Director of CMB's Financial Services practice. He isn't looking to switch banks anytime soon.