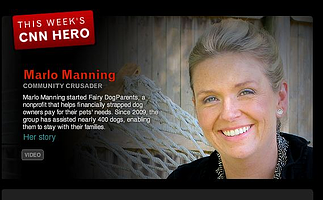 One of the things I love most about the culture of CMB is the passion of our people, inside and outside the office. It inspires me each and every day. Last week our HR Manager, Marlo Manning was named a CNN Hero for the charity she founded called Fairy Dog Parents. In Marlo's "spare" time she managed to turn the loss of her beloved dog into a nonprofit that has helped over 400 dogs get the care they need when their owners have fallen on hard times.
Let's face it, times are still tough for people. When unemployment hits and they are faced figuring out how to care for their family, pay the rent or mortgage and put food on the table, many people are forced to give up their pets. This is where Fairy Dog Parents steps in, easing the financial burden of caring for a dog so they can stay in their loving homes by paying for everything from dog food to vet bills.
A lot of us have ideas on how to make an impact or causes that we are passionate about, but time, jobs, family and "life" sometimes gets in the way of acting on those ideas or causes. But for some that passion runs deep and inspires them to push on, to make it happen, to follow through and not give up. Passionate people do amazing things which often becomes contagious and inspires others to act.
Another cause we are all very passionate about here at CMB is the Light the Night foundation that supports the Leukemia and Lymphoma Society. Six years ago when one of our own CMBer's was diagnosed with this terrible disease, I was once again taken back by how the company rallied together and acted on their passion to make a difference and support Catherine. Through the last 4 years as a team we have raised over $35,000 for Light the Night by participating in the Boston Walk. And Catherine has been cancer free for 3 years. This walk has become a CMB tradition, part of who we are as a company and an important way we put our passion to work. We are gearing up for this year's walk taking place on October 11th. The CMB team is working hard to raise funds through friends, family and a silent Auction and BBQ. We would love your support for our team, please donate here.
For me personally it's this passion that runs deep in our culture both in the work we do for our clients and in our personal lives. It gives me inspiration, motivation and my own sense of passion to make a difference. When you are surrounded by people like that every day it becomes contagious and is part of our company's DNA. It makes us better researchers, marketers, accountants, managers… it makes us all just a little bit more passionate about life.
Posted by Kristen Garvey. Kristen is CMB's VP of Marketing, a mom of two, and an adjunct professor at Boston College Carroll School of Management. You can follow Kristen on Twitter @KristenGarvey