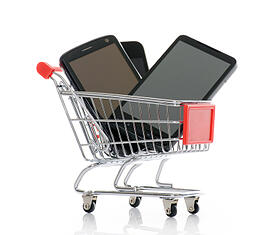 I start to fantasize about Thanksgiving Day as soon as I've finished the last of the Halloween candy. From getting up at the crack of dawn, to saying grace, right up until the end of the fourth quarter of the last football game, Thanksgiving is filled with all kinds of wonderful rituals and traditions I look forward to every year. But things DO change –just as our forefathers never could have dreamt of the magnificent poultry innovation we call Turducken—few would have guessed how Black Friday's evolved in just the last decade. Certainly the fact that many retailers will be starting their "Black Fridays" ON Thanksgiving has gotten no shortage of press. But it's mobile's impact on the shopping season that will likely decide the financial winners and losers.
This year, instead of grandma telling the kids (okay, me) to get my elbows off the table, she is going to start telling us all to get that "little computer" off the table. Instead of watching my wife and her sisters retire to the kitchen table with an armload of Black Friday circulars, I now expect them to form an Arthurian-style tablet round table, each sharing best-of links, Likes, and Tweets. Don't get me wrong; in general, progress is good. It is just going to change my ritual—instead of getting up ridiculously early to execute the extremely detailed list my wife has put together at retail, I'll be staying up late with her to nail as many online deals as possible.
Welcome to the world of post-pie commerce, where you'll barely have to shuffle from the dining room table to the sofa to start getting holiday deals—no more sneaking away to get your laptop (how 2008). The good news is, a lot of retailers are getting wise to some of the nuances of mobile technology's impact on consumer habits. A recent survey from eBay found two thirds of holiday shoppers wanted the sales to begin after dinner, and that dinner usually ends a bit before 5:30. So eBay's mobile app will be releasing out mobile only deals right after dinner on the east and west coasts. Smart.
So we know what 2012 will bring, but I'm willing to put my neck on the line (subtle turkey humor) to make a few more predictions for Thanksgiving 2013:
Checking in at Black Friday (Small Business Saturday, et al) with location-based deals/ coupons sent real time to mobile devices

Black Friday Gamified with manufacturers offering big sweepstakes prizes for those who buy their products at multiple retailers (e.g., win a chance at $10 million if you buy a Pepsi product from WalMart, Target and Lowes all between the hours of 4:00 AM and 8:00 AM)

Big data used agilely by retailers to adjust inventory and react to competition by surfing all of the Black Friday chatter sights to see what people are most excited about.

Someone trying to brand Sunday. Maybe "ROBO (Research Online, Buy Offline) Sunday" so the shopping could be done efficiently while out attending church and visiting relatives.

While parents retire to football watching and tablet tripping, the new kids ritual will be starting their holiday wish list via Amazon's Santa App (or one like it) that will eventually be cleverly linked to parents' accounts real time.
And one more for good luck: some clever retailer(s) will seize the opportunity to brand the day before as "eWallet Wednesday" thereby taking advantage of early dismissals from schools and some jobs. The necessary investment in POS technology will pave the way for eWallets to surpass plastic as the tender of choice for Millennials by 2014.
In closing, despite the addition of more microprocessors and silicon chips, for me Thanksgiving will happily continue to be a day filled with thankful reflection, tryptophan-induced sleepiness, and a bottle of antacid How will your Thanksgiving be changing, or not?
Brant Cruz is our resident segmentation guru and the Vice President of CMB's eCommerce and Retail Practice.

Happy Thanksgiving from all of us at CMB!