A practical and innovative approach to new product development.
The Challenge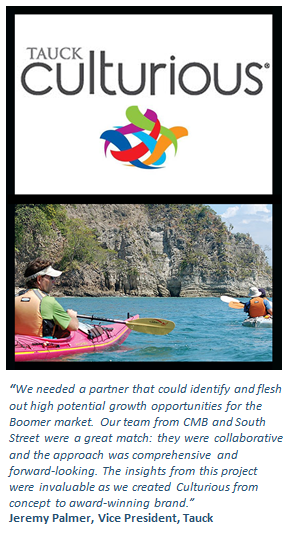 Tauck Worldwide, an industry leader with over 85 years experience in premium guided tours, wanted to create a new travel concept to meet the needs of a population increasingly comfortable with researching, planning, and traveling on their own. Tauck needed innovative thinking to define and build a new type of tour product – one that appealed to next gen customers, conveyed a unique brand identity while standing out from competitors in the crowded travel market space. What We Did
CMB and principals from South Street Strategy Group used a multi-method, multi-source approach to:
Select top opportunities on which to focus

Ideate across functions with executives and senior managers, leveraging insight and experience in the market

Research and assess the competitive landscape and baby boomer's core travel goals and needs – particularly un-met needs

Test alternatives to guide product development, pricing and identify target guests who are most interested in the new product line

Identify acquisition targets in the travel industry, new business models, and new product offerings, by leveraging core competencies, that would create significant value for the company and address baby boomer's needs
Work with the CEO, CFO, and COO and the New Ventures Group to ensure recommendations were aligned with business constraints, addressed operational challenges and met business goals
How It Was Used
Tauck launched the Culturious brand as a totally new product line on time and with unanimous board approval. The new brand, which currently consists of 8 packages and destinations, meets customer needs by offering small-group tours geared toward active baby boomers with an interest in active, culturally engaging travel. The brand has won awards, including the 2010 Innovation prize from the Connecticut Quality Improvement Award Partnerships (CQIA).
To learn more about our approach to New Product and Service Development click here.
For more of our award winning case studies click here.