If you're a Patriots fan you know there's one thing that's more consistent than Bill Belichick's one word answers, it's his mantra: Do your job. We've heard it a hundred times, and while it sounds simple, that kind of focus and trust in your team takes not only a special kind of leadership and management, but a clear understanding of the difference between the two.
As we move into this weekend with the highly anticipated match-up between the Ravens and the Patriots it's clear success runs deep at Gillette Stadium; both rich in history and woven into the very fabric of the "Patriot Way". It's about leadership, management, mentoring and culture, but at its core the foundation of the Patriot Way is built on the trust that everyone on the team will "do their job".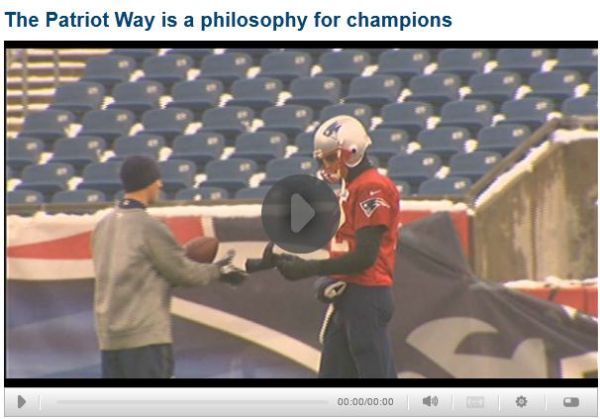 As Tom Brady says in the interview the message is simple: "You do your job so that everyone around you can do their job and when people trust each other you can play with anticipation and confidence." That's a pretty powerful statement, both on and off the football field. It speaks to their ability to focus and not worry about what everyone else is doing. There's a lot that can be learned from the way the Patriots not only lead, but manage their success.
The Kraft family and Bill Belichick have built a culture that not only values leadership and management, but understands the differences between the two. In a recent HBR Blog Management Is (Still) Not Leadership, Dr. John Kotter discusses this very point. Leadership is not something that is for those at the top of an organization; leadership should be fostered and cultivated throughout an organization. One could argue Belichick is not about leadership (and certainly not about charisma), but more about process, focus and management. He operationalizes success through having the team focus on doing their job. While leadership is something that must start at the top, no organization can afford to have it stay at the top. Listening to that clip it's clear the Patriots have a deep bench when it comes to leadership.
Since we are Market Researchers and everyone loves numbers to back up observations, here are some numbers to chew on:
10 AFC East titles since Belichick became coach in 2000
5 Super Bowl appearances
3 Super Bowl Championships
To put this into perspective in the previous 40 years before he became coach the Patriots won the AFC East 4 times and lost in their 2 Super Bowl appearances. How's that for doing your job! Go Pats!
Kristen is CMB's VP of Marketing, a mom of two, loves the Patriots, and is focused on doing her job. Follow her on Twitter: @KristenGarvey