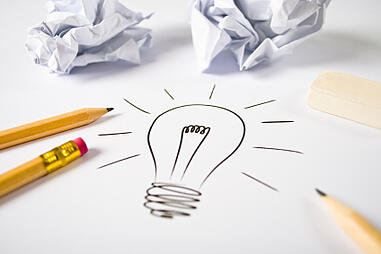 Drew Boyd and Jacob Goldenberg want you to Think Inside the Box.
Their recent article in the Wall Street Journal encapsulates the increasingly jaded perceptions of innovation in the corporate world—where "brainstorm has become a byword for tedium and frustration," and innovators are told to "go wild making analogies to things that have nothing to do with your product or business."Ouch.
But it's true. Innovation has suffered from a bad reputation of unfocused creative sessions that, in the end, provide little value to solving a real business problem. The answer? We at South Street have long believed that efficient and effective innovation requires focus. Focus on solving a pressing problem which a business owner experiences…focus on how to get to an underserved but attractive customer segment… focus on ways to extract complexities out of the system.
It may sound counterintuitive, but in our work we advocate that constraints are a necessary element to fuel innovation and creativity.
So what techniques does focused innovation employ? Here are a few that we've found applicable across industries and clients.
Lightening up. Boyd and Goldberg call it "subtraction." GE called it "de-featuring." Regardless of the name, the strategy involves removing essential elements in order to get a new offering. Think: an exercise bike is a bike with one wheel removed. It's a simple solution, but it opened up a new market of users. And it's an idea that's applicable in both product and service industries. For instance, we've worked with a top health insurance company to take a complex product offering that had become "richer" over time, and we created an affordable stripped-down model. The rich version has a place, but some segments may prefer the light version.

Merging together. In this case, rather than taking features out, seemingly unrelated features are offered in an all-in-one package. For example, the CAPTCHA system not only helps thwart hackers and fraudsters; the text you enter is actually contributing to transcribing old text that's hard to decipher. At South Street, we worked with a client to merge several disparate products and services to serve a unique segment—one that could not have afforded or had access to the products à la carte.

Segmenting out. In our opinion, any innovation needs be rooted in a strong understanding of your target segment. Without this, techniques that define a new offering (such as lightening and merging) are taking shots in the dark as to what your customers really want or need. Look at a customer group that has strong financial potential for you. What are their highest-level goals and needs, and are you (or your competitors) currently satisfying these needs? What techniques can you use to pull from what you are already offering and customize it for this segment?
Innovation should be all about solving specific business problems. By doggedly sticking to this focus, innovation need not be a buzzword at your company.
Rachel Corn is a Director at South Street Strategy Group, she specializes in finding growth opportunities in new market segments, new products and businesses and innovative business models.
South Street Strategy Group, an independent sister company of Chadwick Martin

Bailey, integrates the best of strategy consulting and marketing science to develop better growth and value delivery strategies.