Goodbye, plastic hotel room key. So long, wallet. Farewell camera. These days you don't need any of the above to unlock a hotel room, buy a mojito or snap a vacation photo. All you need is, well — you. –Stephanie Rosenbloom, "Just Tap Here," The New York Times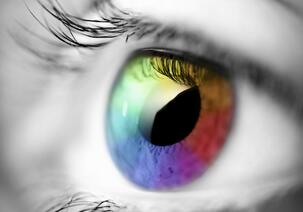 That quote, from an article in the NY Times' Travel section, hit me like a wave. Since the beginning of the year, I've managed to lose a hotel key card, leave my cell phone at the office before going on a business trip (after carefully placing it where I would see it before dashing to the airport), lose my office and son's daycare key cards, drop my American Express card somewhere during a 3-mile run, leave my reusable coffee cup next to the register at my local Trader Joe's, and lose my sunglasses. It's painfully obvious why this article, on the wonders of biometrics, hit so close to home.Biometrics have come a long way since the retinal scans featured in the old Bond and Batman movies. Now you can do more than imagine scanning your fingers to open the door, or make a purchase; hotels can use infrared signals as a virtual "Do not Enter" sign, detecting body heat and ensuring housekeeping staff doesn't knock or barge in.
While I look at technology as enabling convenience, others just see more evidence of Big Brother penetrating our lives—all that data needs to live somewhere and that makes many people uneasy. Of course, you could make the argument that the NSA is already collecting vast amounts of data tracking our every move; we may as well use it to our advantage by gaining something out of this sharing. As Zachary Karabell notes in a recent article in The Atlantic:
…for all of the legitimate concerns about government intrusions on personal privacy, Americans today -- along with many people worldwide -- surrender vast amounts of personal information to companies and seem quite prepared to surrender even more if it adds to the enjoyment and reduces the friction of myriad transactions that are part of everyday life.
With that quote in mind, I thought about how my clients can leverage this technology to deliver a better experience to their guests (while decreasing their operating costs, and gain repeat business and free marketing through advocacy). Our work in the cruise industry, as well as the JD Power 2013 Cruise Line Satisfaction Report, reveals that the embarkation and debarkation process are very important in driving guest satisfaction. Think about how much more quickly those lines would move if an iris and/or fingerprint scan were all it took to board the ship? Guests get where they want to be more quickly and cruise lines need fewer embark and debark crew members to manage the process.
Onboard photography is another area that frustrates guests (and represents lost revenue) when they don't have an adequate number of photos from which to choose. Facial recognition technology that enables onboard photographers to group every candid picture they take, so passengers can easily browse, would solve that problem.
For cruises attracting a mix of guests from all over the world, using fingertips as a purchase trigger rather than cash or credit cards would also help improve the onboard shopping experience for those guests who do not hold currency in the denomination used on the ship and/or who are not fluent in the primary language spoken onboard.
New tools and emerging technologies offer myriad opportunities to improve the customer experience. Biometrics and mobile tracking are giving brick and mortar businesses the opportunity to catch up with their online counterparts. But there's a real trade-off here—if customers are going to take that leap of faith it needs to be worth it. What do you think?
Lynne is Research Director of CMB's Retail and Travel practice; she has not lost one personal object since June. She would like to thank the The London Hotel NYC for getting her back in her room quickly (after verifying her identity), Judy Melanson for letting her use her phone to stay in touch with her family while traveling and Sean Kearney for dropping off her phone at home so it would be there when she returned, AmEx for getting sending a replacement card within 24 hours and Trader Joe's for maintaining a Lost & Found.
Learn how we help Royal Caribbean measure guest experience and improve customer satisfaction and retention.