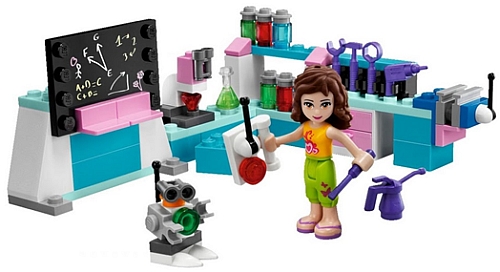 Just over a year ago, leading toy maker the LEGO Group launched its new line of blocks and figures for girls called LEGO Friends in key global markets in the Americas, Europe, and Asia. It is one of the most successful launches in the company's history and has already generated twice as much business as expected.The story of Friends started long before the 2012 launch, and deserves a full-length case study; for now I'm excited to share a little of what I learned from meeting and listening to Laura Post, Senior Director, Strategic Planning and Insights, for LEGO in the U.S., when she talked about LEGO Friends at the IE Group's Women in Strategy Summit in New York City a few months ago.
Laura attributed much of the success of the launch to a shift to a customer co-creation approach, and a willingness to really observe and listen to customers and to engage them in co-design of the products. The LEGO Group had tried for over two decades to expand its appeal with girls with little success. Barriers included lack of company focus and support, core products geared to boys ages 5-9, and products designed with strict adherence to internal 'sacred cow' beliefs about what mini figures should be and look like. LEGO was also in serious turnaround mode in 2003-2004 after straying too far from its core.
One of the things that LEGO executives realized needed to change was that employees needed to be empowered to make customer-focused decisions. Consumer insights are now core to LEGO's strategy. As evidence of this shift, according to Laura, the company spent four years and conducted 13 major studies researching customer needs and wants related to Friends. It directly tested products with 3,500 girls and moms, and once a month, girls were brought in to co-create products with LEGO's designers and researchers.
It was through this focused effort and investment that LEGO learned that the majority of young girls around the world prefer to play with building toys and figures that look very realistic, have vivid colors (especially pink and purple), and that have different personalities that increase the emotional connection. The traditional old mini figures with generic facial expressions just wouldn't do. As a result, LEGO invented the Friends mini-dolls, each with their own names, interests, and favorite things and places (see Olivia and her invention workshop graphic).
This co-creation story is only one example of what the LEGO Group is doing in this space. There are many, many more examples of how co-creation is changing business for the better. As a big fan of the co-creation approach, I hope to tell more stories on the use of this customer centric methodology at Lego and elsewhere. Watch this space.
Jennifer is a Director at South Street Strategy Group. She recently received the 2013 "Member of the Year" award by the Association for Strategic Planning (ASP), the preeminent professional association for those engaged in strategic thinking, planning and action.
South Street Strategy Group, an independent sister company of Chadwick Martin Bailey, integrates the best of strategy consulting and marketing science to develop better growth and value delivery strategies.
Join Tauck's Jeremy Palmer, CMB's Judy Melanson and South Street Strategy Group's Mark Carr on September 12th at noon for a webinar: Focused Innovation: Creating New Value for a Legacy Brand Focused Innovation: Creating New Value for a Legacy Brand