"My favorite place in the whole world is Nashville. Because it's my home, it's Music City. It's like, everybody there is so artistic and so creative, and nice! Everybody's really friendly." - Taylor Swift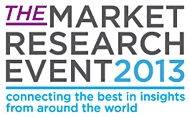 Far be it from us to argue with Taylor Swift! Next week we're packing up and headed to Nashville for TMRE to talk shop, share insights, get together with our terrific clients, hear from an exciting mix of speakers, and just maybe get to sample some Tennessee barbecue.Are you headed down (or up)? Stop by our booth to say hi and enter to win a New England Clam bake.
Spoiler alert! Don't miss our very own Chris Neal, on Monday at 11:15, as he joins Joanne Burns of the Council for Research Excellence (CRE) for their presentation TV Untethered: Quantifying Mobile TV Viewing and its Impact on Networks, Content Providers, Advertisers and Marketers. Chris and Joanne will share insights from their study aimed at helping audience measurement specialists, networks, advertisers, and others better understand how smartphones, tablets, and computers are changing TV programming.
We're also looking forward to hearing from Hilton's Christine Hight as she shares How "Franken-data" Conquers Hilton's Big Data Challenges. Come join us on Wednesday at 1:45 to hear how Hilton Worldwide combines Big Data, consumer research, and creativity through an ad hoc, "Franken-data" approach to identifying consumer insights that have fueled innovation and adaptation across their global enterprise.
If you're attending the conference we'll see you there, if you can't make it stay tuned for our TMRE recap in the coming weeks!
Going to CRC in Dallas tomorrow? We'll be there too! On Thursday the 17th, Amy Modini and UPMC's Jim Villella dig into the Challenges of Channel and Complex Pricing Scenarios. Stop by and learn how UPMC and CMB applied a discrete choice methodology to account for a number of challenges to estimate shifting consumer preferences, make key product development and marketing strategy decisions, and ultimately position UPMC for success.