Sirens ring out across Dusty Depot. As the ground begins to shake, a rocket erupts from beneath, its pace intensifying as it scars the horizon. Suddenly, the sky cracks and blue rifts appear, rockets raining down; a meteor ruptures the sky, hurtling to the ground. The impact devastates the island as a black rift emerges, engulfing everything that surrounds it. Nothing is left but darkness­­—is this the end?
It is not the end, nor is it a Hollywood movie or HBO fantasy drama. This is Fortnite Battle Royale, the highly disruptive online video game that serves as a barometer for success in this gaming genre. This much-hyped seasonal event attracted a peak 1.6 million viewers on Twitch and a peak 4 million viewers on YouTube. The success of this event is a positive development for the game following recent reports of a 52% decline in in-game spending, lagging viewership figures and general dissatisfaction with the state of its most recent season. Live content spectacles help renew focus away from the all-too-familiar proclamations of a dying game or a dying and oversaturated Battle Royale genre, but Fortnite has a bigger problem that may ultimately destabilize growth: the image of the typical Fortnite player.
In our recent BrandFx 2.0 research, CMB interviewed thousands of gamers regarding more than 30 media, entertainment and gaming brands on this very topic. We found that for players of a game, the most important driver of recommendation is how well the most recent gaming session elicits positive emotion. For non-players, however, the most important driver of considering a game is their perception of that games' typical player. We also found that for gamers' who don't play Fortnite, perceptions of the typical Fortnite player were considerably more negative than perceptions of the typical brand user for prospects of other media brands.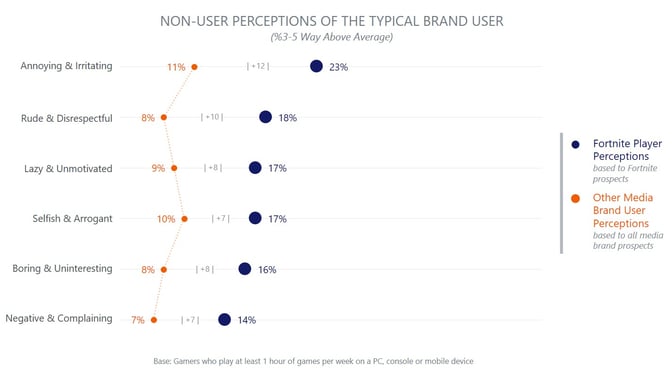 Takeaway #1: The Battle of Divisive Emotions
Among the users and non-users of any of the 33 media brands we tested (and particularly among other gaming brands such as Nintendo, Pokémon and Mario), some of the starkest differences were between how Fortnite players perceive the typical Fortnite player and how non-Fortnite players perceive the typical Fortnite player. This in spite of what is a relatively cohesive perception of audience demographics (i.e. both Fortnite players and non-players perceive the typical Fortnite player as younger male teens).
Takeaway #2: A Middle School Dance: Fortnite On One Side, Non-Fornite On the Other
Non-Fortnite players are also more likely to view themselves as "very different" to the typical Fortnite player, "very disinterested" in making friends with them and more likely to "really disrespect" the typical Fortnite player. Only two other brands come close to this level of consistent negative perception among non-brand users across all three categories (The Simpsons and Pokémon are the other two).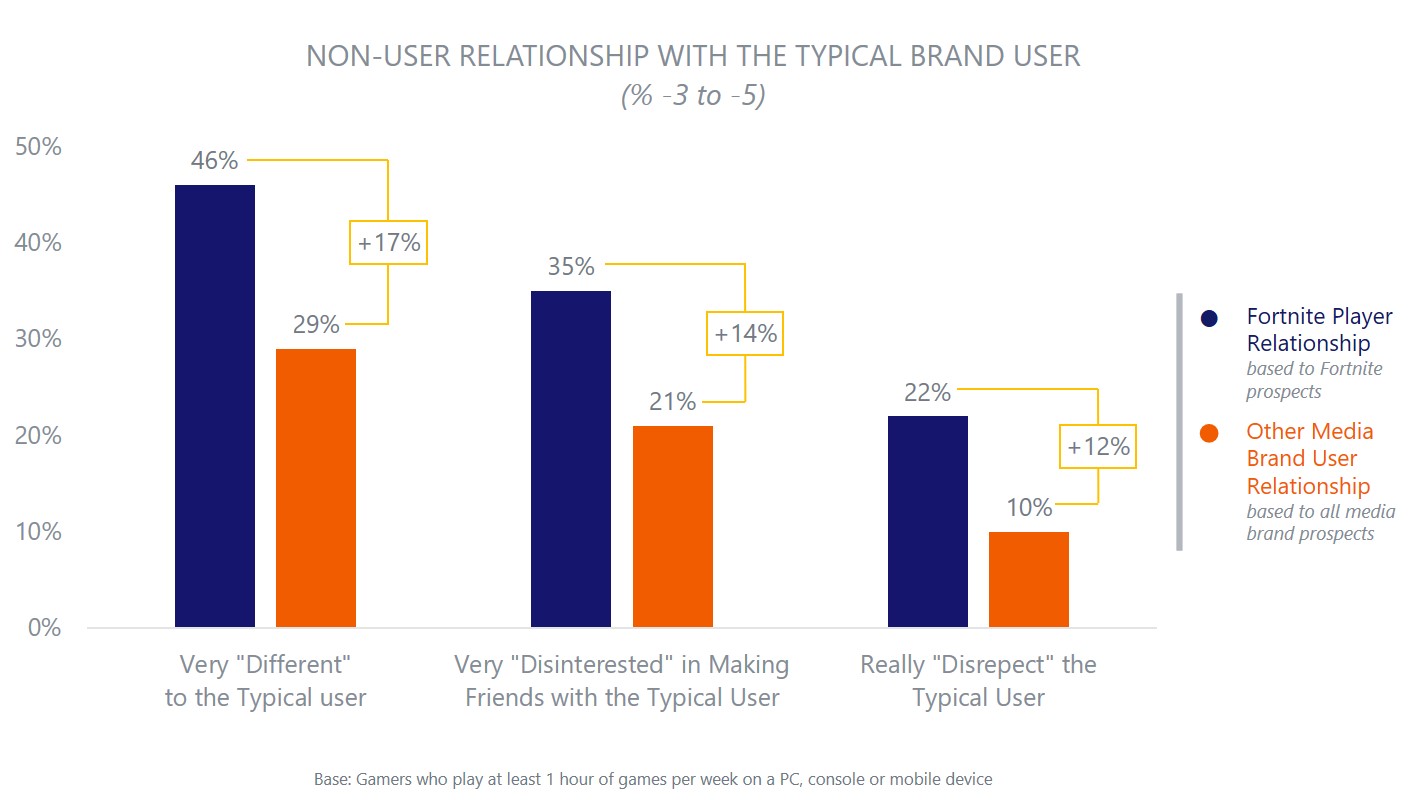 Takeaway #3: Converting Non-Fortnite Players
Ultimately, it could be these typical player perceptions that feed into the negative emotional association to Fortnite among non-players, in turn potentially hindering future player growth. When asked how they imagine it would feel to play Fortnite, the non-Fortnite gamers are among the strongest of the tested brands to state that they expect the experience to be more "bad" than "good" (35%: +15% vs. media average).
While Fortnite continues to defy critics claims of the game's death, and hold off fierce competition from the likes of Apex Legends and PUBG, its continued success may hinge on changing the substantial negative perceptions of its user base.
---

Josh Fortey is an Account Director at CMB, and avid gamer.
Follow CMB on Facebook, LinkedIn, and Twitter for the latest news and updates.