The modern consumer journey is as fast as it's ever been. Faster internet and an "always connected" mentality have ushered us into an age where consumers quickly transition through the phases of the consumer journey; an evolution that Google dubs "Impatient Consumers".
Just this week I was reminded of the hyper-speed at which modern consumer journeys occur as I upgraded my phone, and compared it to the first smartphone I ever bought. It couldn't have looked anything less like my first journey towards a Blackberry 8800 purchase (a top of the line phone for the time I will add…). My first phone journey involved visits to electronic and phone carrier stores, trialing and testing numerous handsets, and speaking to friends, family and sales associates about the best brands or models. And sure, my most recent phone purchase experience could have looked something like this, but it didn't. After some googling, watching tech influencers breakdown product, and some final product and price comparisons, my most recent smartphone path-to-purchase was complete within just a few hours.
Though these two journeys are nothing alike, there are a number of common themes that underpin decision-making. At CMB, we look at this decision-making mentality through a continuum of Fast or Slow Thinking:

Fast-thinking (i.e. System 1) is the more instinctive, emotional, and impulsive decision-making that is more commonly associated with early-stage consumer journey decisions (e.g., do I pay attention to an ad, do I click on a video review). As we shift into the later stages of the consumer journey, where we evaluate and form purchase criteria, we become more critical and deliberate, shifting into the slow-thinking mindset of addressing concerns or weighing the benefits.
In slow-thinking, the consumer journey can become more challenging and can ultimately derail the entire journey. Our recent self-funded consumer journey research, A Gamer's Journey, identified three examples of this.
FRICTION:
As consumers shift into the critical and deliberative slow-thinking mindset, they begin to put substantially more effort into weighing the benefits and disadvantages of different options. This increased effort can begin to create points of friction in which challenges are met, and barriers formed. In our gamer journey research we observed both buyers and non-buyers encountering friction, however, it was universal across all gaming categories that the more friction a consumer encountered, the more likely they were to ultimately drop out of the journey:
To prevent friction-churn, we must focus on making the consumer journey as seamless as possible; this involves isolating and remedying any challenges consumers may face.
CHALLENGES:
Challenges are the components of the consumer journey that make it difficult to learn, evaluate, and inform decision-making; they lead to hesitation or barriers that could cost your brand. We found that those who felt more intense friction experienced almost 2.5 times more challenges through the consumer journey than those who felt less friction. For cloud gaming, some of these slow-thinking challenges were more heavily related to trusting customer reviews, comparing service providers, but importantly (especially for an emerging category), finding product roadmaps and updates. Potential cloud gamers still indicated some hesitancy about whether developers will remain dedicated to advancing the technology, and if game studios will begin developing or porting games to the platform.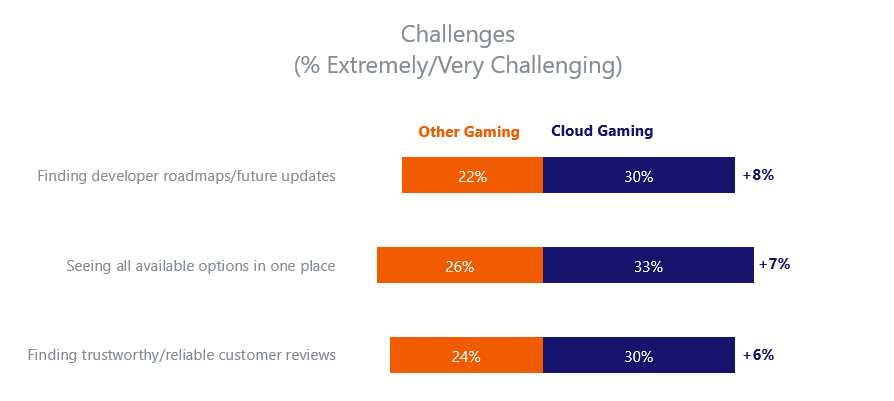 PURCHASE BARRIERS:
In any consumer journey there is a critical juncture where a final decision gets made. It's at this point where the consumer has either overcome any (or enough of) the rational fears that cause hesitation and purchase, or they encounter a significant enough barrier that prevents their purchase or results in a competitor winning. Slow-thinking occurs in both of these scenarios: either you've succeeded or failed at rationally persuading consumers enough to overcome their barriers.
Revisiting cloud gaming again, the top barrier to adoption within this category is indecision. Consumers remain skeptical about the future of the technology and question the performance benefits or effectiveness of current solutions. The positive for cloud gaming is that many gamers aren't completely rejecting it, rather, they're waiting for the tech to prove itself, and/or for more compelling arguments to emerge, and convince them of purchasing.

MAKE FAST-MOVING, SLOW-THINKING AN ADVANTAGE
No matter the speed or channel(s) at which today's journey happens, consumers will always be faced with making decisions. Challenges exist at both ends of the fast and slow thinking spectrum: capturing attention and driving consideration when consumers are thinking fast, and overcoming fears, pain points and barriers when consumers are thinking slow. Brands that comprehend and tackle both of these, are the brands that will win the consumer journey. To learn more about integrating a Fast+Slow Thinking framework in your consumer journey work, contact us here.
---
Josh Fortey is an Account Director at CMB, and avid gamer.
Follow CMB on Facebook, LinkedIn, and Twitter for the latest news and updates. Also, read "Expanding Possibilities in Path to Purchase Research" to know what to consider in the new path to purchase.
Don't forget to immerse yourself in our latest gaming research: A Gamer's Journey | The Virtual Reality Edition. And stayed tuned for more of our findings--VR and beyond.