I'd describe the fashion sensibility in our Boston office as…eclectic. The khaki and button-down/dresses and heels faction (hello Financial Services team!) mingles easily with the flannel and sneakers crowd (hello pretty much everyone else!). Of course, when it's time to head to a conference or awards dinner, even the most casual CMBer will toss on something that's appropriate to the occasion and crowd.
For most of us, especially those of us in professional services, our approach to work fashion is deeply influenced by a tension between expressing ourselves and fitting in. This tension finds an analog in two concepts from consumer psychology:
Personal Identity: How much a consumer's relationship to a brand plays into their self-image and self-esteem
Social Identity: The sense of belonging or kinship consumers feel with others who use the brand
In recent blog posts we've discussed our work with the consulting firm VIVALDI to take a fresh look at their 2010 "Social Currency" concept. We evaluated how 90 brands across five industries fit into the lives of consumers. Our results revealed seven critical components of consumers' experience that brands must strengthen to influence the experiences and behaviors that drive engagement, purchase, and loyalty. Chief among these consumer experiences are Personal and Social Identity – which in the apparel industry are exemplified by the rise of customization and wearables.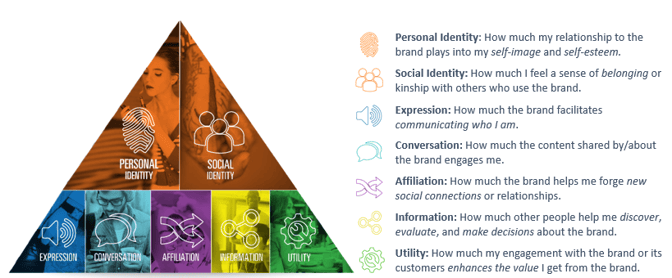 Customization
To keep up with the "generation of customization" and Millennial's preference for personalization, brands now offer customizable products to their customers. Take footwear giant Converse. Converse is a subsidiary of Nike, Inc., which was the best performing brand in our 2016 Social Currency Report (across all industries) with an indexed Social Currency composite score of 120.
While Converse still maintains its classic white Chuck Taylors, the brand has moved into the customization space to satisfy those consumers seeking personalization. Customers can personalize their Converse, selecting everything from shoe type, height, collection, color, and size. Even though consumers are still "fitting in" by sporting the notable Converse brand, the personalized shoes also satisfy their need to express themselves.
Although not limited to apparel, the ability to offer customization on a broad and relatively affordable scale offers a tremendous opportunity to support and reflect fashion consumers' personal identities in particular. [Tweet this!]
Wearables
Brands that do well are those that continue to find ways to meet the needs of their customers. Enter the rise of wearable technology. Why? Because wearables can enhance both a consumer's personal and social identity. Let's again look at Nike. Nike scored 119 in Social Identity in our 90-brand study – highlighting its success in fostering a sense of belonging and kinship among its customers.
Nike entered the wearable space a few years ago with the introduction of the Nike FuelBand. Even though FuelBand had a short life, it was this wearable that got people engaging and competing with other users (even though FitBit was already in the market).
So why is the short-lived FuelBand's narrative important? Because it underscores Nike's commitment to finding innovative ways to enhance customers' personal and social identities. Even though the physical bracelet didn't work out, Nike remained committed to the wearable tech space by introducing Nike+, an Apple and Android compatible app that connects Nike users to its online fitness community.
And Nike isn't the only successful brand in wearables. Many other companies that our report looked at are invested in wearable technology, notably ones that have scored high in Social Currency:

Notice the top scoring brands we measured are each engaged in wearable tech. Coincidence? I think not.
It's a consumer's world and brands are just living in it
A key finding of our research (you can download our free report on apparel here) is that consumers are loyal to brands that fit seamlessly into their lives and help them express who they are, what they like, and who they feel connected to. For example, does a brand reinforce a consumer's self-image? Is a brand fostering a sense of belonging or kinship among its customers—a hallmark of true consumer-centricity? If brands can answer "yes" to the above, they're doing something right.
Ed is CMB's Director of Product Development and Innovation. He thinks there is a game-changing product or idea within everyone, and it's his job to dig it out. You can share ideas with him @edloessi.
Get our FREE apparel report and learn how Social Currency can help brand transformation:
And check out our interactive dashboard for a sneak peek of Social Currency by industry: