Some habits will stick with us post-pandemic
My Papap—my grandfather on my mom's side—was a child of the Great Depression. He had just turned 13 in 1929. He was an extroverted, happy-go-lucky guy—always smiling. But, to his dying day, he saved everything. Even if it was broken. When he changed the oil in his car, he'd even save the old oil. He also remained price sensitive. When my parents bought something, his first question was always: "What'd that cost ya?"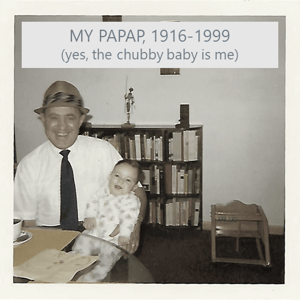 He wasn't alone. The Great Depression permanently altered habits and values for most of those who lived through it.
Likewise, we're sure to undergo significant changes as a result of what we're living through today. Already new norms are taking hold—most as a matter of current necessity. Which consumer behaviors will revert to their original state, and which will stick around even when the pandemic is behind us? It's a critical question for brands seeking to weather this storm and position themselves to thrive in the "new normal."
One way to approach this question is through the lens of the Fogg Behavior Model. Originally developed in the tech and innovation space, it's applicable to a broad range of behaviors.
In Fogg's model, behavior is a factor of motivation and ability: When motivation is high, people will perform a behavior even when ability is low—i.e., even when it's difficult. The strength of the motivation needed to drive the behavior goes down as ability (i.e., ease of performing the behavior) goes up. So, when ability to perform a behavior is very high (i.e., when it's very easy to do), people will do it without much motivation.
It's a simple framework, whereas people are a complicated network of motives, emotions, values, thoughts and beliefs. And yet it can be powerful in its simplicity. Let's take, for example, the ongoing run on toilet paper. At CMB, we look at four key motivations: emotional, identity, social and functional:
FUNCTIONAL

: I hear other things work—like coffee filters—but I'm pretty sure TP works better

SOCIAL

: TP is a hot topic of conversation, and clearly other people are stocking-up

IDENTITY

: I'm a good mom, and good moms should never run out of TP

EMOTIONAL

: Quite frankly, I'm afraid of running out—and highly activated negative emotions, like fear and panic, are particularly motivating (per a blog I wrote just before the virus hit the fan)
Taken together, my current motivation to buy TP is VERY HIGH. But my current ability to buy TP is VERY LOW. It's sold out online, visiting stores is a risk, and it's usually out of stock anyway. This situation—common to many of us right now—drives hoarding: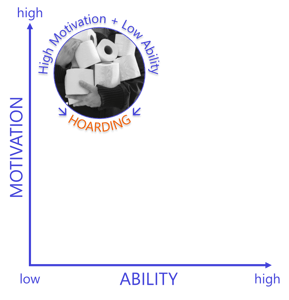 It's little surprise that "where to buy toilet paper" is a top Google search, tips on which stores got new shipments fill-up Facebook threads, images featuring TP stockpiles are trending on Instagram, and the TP subscription service Who Gives a Crap had so many enrollees that they have a waitlist. (Their homepage says: "We're completely wiped out!")
So Fogg's model helps explain what's going on with toilet paper, but how can it help us predict what will happen post-COVID-19 for the many industries facing disruption? After all, ability is currently low for most "normal" consumer behaviors (e.g., they are very difficult, or seem very risky).
If we want to know

which behaviors will revert to their "old" state

, we should be looking at where

motivation to revert is high once ability resumes

.

For example: What do we miss most? What's most painful or difficult right now? What's not working well? What can't we wait to do #WhenAllThisIsOver?
For me, this includes eating out, proper hair care, home renovations, vacations that involve leaving our yard, and grocery shopping in-store. (The online grocery shopping experience has failed me on multiple levels!)

If we want to know

when these behaviors will revert—and help them along

—we need to know

what drives perceived ability

.

Until a vaccine is broadly available, what will it take for people to feel comfortable doing things like shopping, traveling, or eating out? For example: What news or breakthroughs regarding the virus? What social norms? What business policies, practices, innovations, reassurances or communications?
Truth be told, I'd be willing to pay more for a less crowded Disney experience. (Shorter lines for rides! Easier restaurant reservations!) But I'd have to feel 100% confident in their safeguards. Nobody wants a family vacation to end in tragedy.

And if we want to know

what new behaviors will stick around after the pandemic

, we should be looking at where

motivation to revert to old behaviors is low

and/or

ability to enact new behaviors is high

.

For example: What do we find ourselves appreciating? What's working well? What new brands, products or services have we discovered? What's becoming an easy way to accomplish goals—i.e., what

new habits

are taking hold?
In my own #QuarantineLife, I've learned to whip-up a good lentil soup so fast I can do it while simultaneously chatting on Zoom and helping my kids "distance learn." It will certainly be something I continue post-pandemic.
In fact, the current situation has actually led many consumers to feel better about their lives. My colleague Lori Vellucci and Insights & Innovation Leader Mack Turner had a great conversation about this phenomenon in a recent webinar.
But what will happen to consumer behaviors for which motivation appears much higher than usual due to the pandemic? For example: When panic has ebbed and TP is less scarce, will we still be driven to stock-up?
I predict the answer is yes, and that someday my grandkids will wonder what's up with crazy Nana Erica and her closet full of toilet paper. That's because the negative emotions surrounding this ordeal will have a long-term impact on consumer motivations. Ever hear the saying, "Mistakes are how we learn"? Strong negative emotions are an effective teacher, and memories born in traumatic circumstances are easily recalled. Wishing we'd invested in a bidet is such a bizarre turn of events, I'm not likely to forget it. I'll want to be prepared for next time, whether that's the next peak in this pandemic, or an unforeseen pandemic down the road.
My evolved motivation—from stocking-up on TP specifically, to being prepared in a more general way—will also present an opportunity for brands to position products and services against my new "prepper"-driven needs.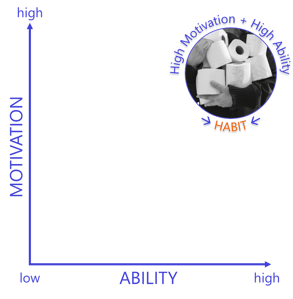 Amid these sea changes in consumer behavior, businesses are under pressure to make smart decisions now in order to survive and thrive in the next normal. Viewing consumers through the lens of motivation and ability provides guidance in terms of what will help inform those key decisions.
Start by understanding emerging trends. Many industries are already seeing some form of disruption (e.g., travel, tourism, retail, restaurants, entertainment, education, and more). Other industries are sure to follow.
Which "old" behaviors will revert, and which of your consumer segments will be first in line

(i.e., which have the strongest motivation to revert once ability resumes)?

How can you help your consumers feel safe and comfortable

(i.e., what combination of business practices, policies, reassurances, communications, etc., will effectively boost ability)?

What new habits are replacing "old ways"

(i.e., what new solutions are enabling consumers to easily satisfy pre-existing motivations), and what will that mean for the future of the business?
How are emotions in this trying time resulting in new consumer motivations, creating opportunities to meet evolving needs with

new products, services, capabilities or marketing strategies

?
Knowing is half the battle (as GI Joe used to say), and—given that we all benefit from a strong economy—the more businesses can successfully weather this storm, the better off we'll all be.
Thank you & stay safe! We at CMB wish everyone well during this trying time.
---

Erica is CMB's VP of Consumer Psychology. She holds a Ph.D. in psychology from Princeton University. Prior to CMB, she led insights research at American Express, where she was a recipient of the CMO Award for Achievement in Excellence.
For more insights, please follow us on LinkedIn, Facebook, and Twitter.