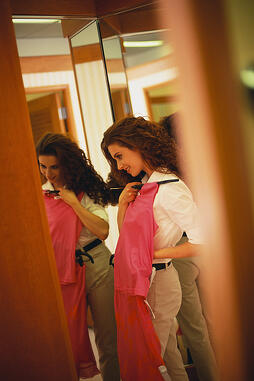 If you follow news in the fashion world, you may have read about recent setbacks at preppy retailer J. Crew. Following another disappointing quarter of earnings, the company announced corporate lay-offs and changes at the helm of their women's clothing design strategy. Although J.Crew has been quick to take action, its poor performance goes beyond declining sales and disappointed customers. Even customers most loyal to the brand are shouting their frustrations in the social media streets (see: "Dear J.Crew, What Happened to Us? We Used to Be So Close").How could the direction of a company—known for its devout customer base—take such a dramatic turn? Although off-the-mark designing is partially to blame, many are frustrated with the poor construction and quality of the clothing. As a loyal customer, I have relied on J.Crew for items that are basic closet staples and distinctly on trend. Like others, however, I have been disenchanted by their new lines—my $40 t-shirt is stretched out after one wear and a hole has appeared near the seams. This is not the outcome one would expect when paying that much for a basic t-shirt. Sarah Halzack summed up the issue well in her Washington Post article on the topic—"J.Crew is learning the hard way that in an era when e-commerce has presented women with ever-greater shopping choices, customer loyalty is hard to win and incredibly easy to lose."
That's a point J. Crew and other retailers need to take seriously. It's certainly true for me. Receiving poorly crafted items from a higher price brand such as J.Crew creates a sharp disconnect. After experiencing this, I'm more likely to purchase from one of many cheaper brands (e.g., H&M or ASOS). Most shoppers that I know feel the same way. In facing this challenge, J.Crew needs to re-examine its core strengths. What positive attributes drove customers to advocate the brand in the first place? Is it quality (as in my experience) or is it design? Is it something else? Although the world of fashion is very forward-thinking (fashion-forward!), the case of J.Crew is a good reminder for brands to consistently monitor and deliver on the core aspects that first led to success.
Hilary O'Haire is a Project Manager on the FIH/RT team. Having worked for J.Crew back in college, she is particularly hopeful the brand will make a comeback!