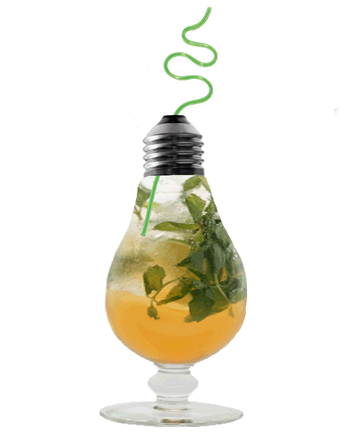 Recently, I attended the CASRO Technology & Innovation Event in Chicago and came away with a fantastic cocktail recipe. But this isn't a recipe for an exotic mixed drink or even a unique twist on a classic G&T. It's a recipe for innovation, and it's made with ingredients we all need to have in our organizational "bar":Ingredients needed:
1 part Big Data
3 parts insights
2 parts socialization
Step 1: Start with a healthy dash of Big Data. While Big Data can give us a whole lot of "so what?" and "who cares?" information, it's also a tremendously powerful tool. In case you're thinking it's a fad, think about the growth of wearables and virtual immersive technologies—both are growing industries based around Big Data. While a deluge of information can create a challenge, there's also a major opportunity for companies who can parse, integrate, and leverage it. For those of us working with Big Data, the focus has to be on depth rather than on breadth. Gary Vaynerchuk (@garyvee), author of Jab, Jab, Jab, Right Hook and guest speaker at the CASRO event, noted that we already have the ability to do this with data from social media. We should be leveraging the massive amounts of free data already available to us via social media sites—like Facebook and Pinterest—to help us better understand customers at a personal level and engage them even more directly over the same social media sites.
Step 2: Mix in a healthy dose of those meaningful, relevant, and contextual insights. And I'm talking the good stuff—insights that are deep, accurate, and actionable. The kind that pair with recommendations and address real challenges.
Step 3: Fill the rest of the glass with a heady mix of socialization and distribution. At the CASRO event, I had the opportunity to see and hear about a lot of great technologies for mining and connecting data as well as for distributing results. Two themes emerged: 1) the importance of socializing your insights and 2) the importance of getting your insights into the hands of the decision makers. One of the easiest and most effective ways to deliver this is via online dashboards. David Mazva, from Infotools, spoke about the journey his company had with a global client and the advancements they had to make in their dashboards to meet this client's evolving needs. He specifically noted that people and companies are spending less time analyzing and more time acting on the data, which is something we at CMB have been focusing on for the past decade and is now more important than ever. It's why we've spent a great deal of time developing dashboards that merge the strategic with the tactical.
As head of our Technology Solutions team, I'm the first to shout that dashboards are great—especially our dashboards—but I know they have more of an impact when delivered over the right medium. Increasingly, this medium is becoming the mobile device. Convenience is no longer just nice to have–it's a must-have. We see this playing out now as we design for mobile first since respondents are taking more surveys on their mobile devices today than ever before. Let's take this one more step.
Now, you have insights on a dashboard and delivered to you on a mobile device, which enables you to make business decisions faster. Why not squeeze additional value out of these insights by putting it out on your social networks? And once it's on social media, see what connections are out there to drive new insights and opportunities. There are free tools, like NodeXL, which can map hubs, bridges, groups, and peripheries of a socially connected network.
Step 4: Stir vigorously until innovation is part of your long-term strategy. Jon Puleston, VP of Innovation at Lightspeed GMI, gave a great presentation on companies that have thrived from innovation. He spoke about GE, Amazon, and others all having a very similar approach to delivering growth through innovation. These companies all actively search and plan for innovation. They integrate it into their long-term financial models, which allows them to react quickly to great ideas versus waiting for funding to become available.
The takeaway? If you're looking to innovate, you're going to need more than creativity served neat—you've got to have the right ingredients mixed just the right way.
Simon leads CMB's Technology Solutions team. In between developing dynamic and engaging dashboards, he occasionally enjoys a real cocktail.
Join us at The Market Research Event! Use the code CMB2014 and receive 25% off your registration.