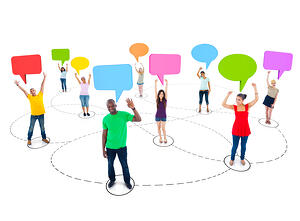 Our blog is special. We don't just have one or two bloggers. All of our employees contribute to our blog, which produces a wide array of perspectives on all aspects of market research including analytics, loyalty, segmentation, and more! This is the perfect time of year to reflect, so before we embark on 2015, let's take a look at a few of our favorite blogs from 2014:
1. Keeping brand trackers fresh can often be challenging. Caitlin Dailey delves into how we keep our trackers interesting in a blog entitled "Keeping Trackers Fresh: Finding that 'Special Something.'"
2. Here's another one of my favorite things about our blog: we're able to take aspects of popular culture and talk about how it connects back to market research. In a blog entitled "A Perfect Match? Tinder and Mobile Ethnographies," our Director of Qualitative Research, Anne Hooper, does just that by relating popular dating app Tinder to mobile ethnographies.
3. A Colorado Symphony concert show series was sponsored by the cannabis industry? This is just one of the odd sponsorships that Kate Zilla-Bâ dives into in her blog post entitled "Sponsorship Advertising: Odd Couples That May Succeed."
4. This year, we had the privilege of being honored as one of the "Top 100 Women Led Businesses in Massachusetts." Take a look at what our President and CEO had to say about the honor in this blog post.
5. We do a variety of events in the community throughout the year, but our favorite event is the annual Light the Night Walk for the Leukemia and Lymphoma Society (LLS). In this blog post, Catherine Shannon talks about how our involvement started.
6. Jessica Chavez segments the parents at the tumble gym and discusses how to make segmentation studies relevant, meaningful, and actionable in this blog post.
Is there anything you'd like us to cover in 2015? Tell us in the comments, and we look forward to talking with you next year!
Kirsten Clark is a Marketing Associate at CMB who's also pursuing a M.A. in Integrated Marketing Communications at Emerson College. She looks forward to ringing in the New Year by watching all 6 Star Wars movies back-to-back.