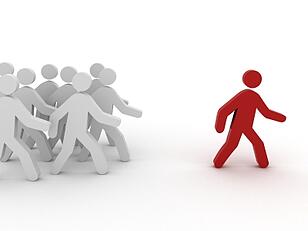 I once again had the pleasure of attending the CASRO Digital Research Conference this year. It's the one of the best conferences available to data collection geeks like me, and this year's presentations did not disappoint. Here are a few key takeaways from this year's conference.
1. The South shuts down when it snows. After having a great weekend in Nashville after the conference, my flight was cancelled on Monday due to about an inch of snow and a little ice. Needless to say, I was happy to return to Boston and its nine feet of snow.
2. "Big data" is an antiquated term. Over the past few years, big data has been the big buzz in the industry. Much like we said goodbye to traditional "market research," we can now say adios to "big data." Good riddance. The term was vague at best. However, that doesn't mean that the concept is going away. It's simply being replaced by new, more meaningful terminology like "integrated data" and "multi-sourced data." But one thing isn't changing. . .
3. Researchers still don't know what to do with all that data. What can I say about multi-sourced data that I haven't already said many times over the past couple years? Clients still want it, and researchers still want to oblige. But this fact remains: adequate tools still do not exist to deliver meaningful integrated data in most cases. We have a long way to go before most researchers will be able to leverage all of this data to its full potential in a meaningful way for our clients.
4. There's a lot more to mobile research than how a questionnaire looks on a screen. For the past three or four years, it seems like every year is going to be "the year of mobile" at these types of conferences. Because of this, I always attend the mobile-related sessions skeptically. When we talk about mobile, more often than not, the main concern is how the questionnaire will look on a mobile device. But mobile research is much more than that. One of the best things I heard at the conference this year was that researchers should "follow the humans." This is true on so many levels. Of course, a person can respond to a questionnaire invitation on his/her mobile device, but so much of a person's daily life, including behaviors and attitudes, is shaped by mobile. Welcome to the world of the ultra-informed consumer. I can confidently say that 2015 is most definitely the year of mobile! (I do, however, reserve the right to say the same thing again next year.)
5. Researchers need to think like humans. It's easy to get caught up in percentages in our world, and researchers sometimes lose sight of the human aspect of our industry. We like to think that millionaire CEOs are constantly checking their emails on their desktop computers, waiting for their next "opportunity" to take a 45-minute online questionnaire for a twenty-five cent reward. I attended sessions at the conference about gamification, how to make questionnaires more user-friendly, and also how to make questionnaires more kid-friendly by adding voice-to-text and text-to-voice options. All of these things have the potential to ease the burden on research participants, and as an industry, this must happen. We have a long way to go, but. . .
6. Now is the time to play catch-up with the rest of the world. Last year, I ended my recap by saying that change is happening faster than ever. I still think that's true about the world we live in. With all of the technological advances and new opportunities provided to us, it's an exciting time to be alive. However, I'm not sure I can honestly say that change is happening faster than ever when it comes to the world of research. I've been a part of this industry for a very fulfilling seventeen years, and sometimes my pride in the industry clouds my thinking. Let's face the facts. The truth is that, as an industry, we are lagging far behind as the world speeds by. Research techniques and tools are evolving at a very slow pace, and I don't see this changing in the near future. (In our defense, this is true for many industries and not only market research.) I still believe that those of us who are working to leverage the changing world we live in will be much better equipped for success than those who sit idly and watch the world fly.
I'm still confident that my industry is primed and ready for significant and meaningful change—even if we sometimes take the path of a tortoise. As a weekend pitmaster, I know that low and slow is sometimes the best approach. The end result is what really counts.
Jared is CMB's Field Services Director, and has been in market research industry for seventeen years. When he isn't enjoying the exciting world of data collection, he can be found competing at barbecue contests as the pitmaster of the cooking team Insane Swine BBQ.