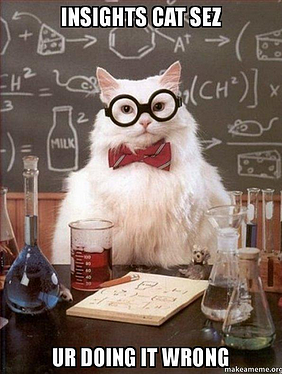 If your brand were a meme, would it look like the one on the right? At the 2015 Yale Customer Insight Conference in New Haven, Connecticut, we heard a lot about the evolving marketplace, powerful consumers, and how to get it right. We're living in an increasingly customer-centric world—a world where businesses are taking cues from their customers like never before. Deepak Advani, GM at IBM Commerce points out that more than three-quarters of customers think brands don't understand them. So, if you are doing it wrong…how can you get on track?
Visual language first. Facebook's Director of Global Agency development, Patrick Harris says that rather than talk about a good book/trip/movie, people are posting a picture of it to "show not tell." Facebook estimates a 75% global increase in visual language. Are you wasting time on content no one will read or resonate with?

Be loved by Millennials. Millennials aren't fighting the power…they are the power and they know it. If they don't love your brand, it is game over, you just don't know it yet. Anne Hubert over at Viacom's Scratch asked us to consider a generation that's 86 million strong and demands an emotional connection to your brand. You can call them raging narcissists with their heads in their phones and unprofitable for your business model, but if you think they aren't a factor in your business, Hubert says they might be ignoring your brand. And all that equity you've banked can disappear if they don't want to work for you and they don't care about your products/services.

Curate good (not branded) content. GE may be among the largest companies in the world, but Linda Boff, GE's Executive Director of Global Brand Marketing, is under no illusions that they need to curate exceptional content— allowing their values of optimism, innovation and flexibility to shine. For instance, GE created 100 pairs of sneakers to celebrate their role in the moon landing. The kicks had everyone from sneaker-heads and fashionistas to museums talking.

Self pace. Ossa Fisher, CMO at ISTATION showed us the power of pacing and 1:1 learning. A child having trouble with a subject can self-pace their learning on smartphones and tablets, avoiding the embarrassment of being too slow (or too quick) in a larger classroom. Without the stigma, the child can focus on what they know and don't know, and work at a comfortable pace. Even the classroom instructor is excited because she can monitor progress toward a goal without slowing down the class.

Share. Richelle Parham (Former CMO of eBay) and Bob Adams (Senior Director at Visa) talk about the rise of the sharing economy. Uber, Lyft, Airbnb and many others are disrupting entrenched businesses and focused on customer needs. For example, dog owners love their dogs and it feels very wrong to leave the dog in a small cage while the owners go off on vacation. In the sharing economy, dog lovers can be matched to other dog lovers and can ensure their dog is also going on a great vacation in a loving home.
As you head into the summer months, recognize the ways your company may be "doing it wrong" and take strides to sharpen and grow your brand.
Julie is an Account Executive. She is in her element connecting with innovative big thinkers on topics ranging from emotion to mobile and complex choice modelling. Follow her @julie1research using hashtag #MRX.