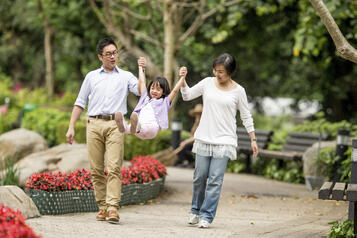 Since the death of popular dad-blogger Oren Miller in February, there has been a resurgence of an initiative he started: pushing Amazon to change its parenting program's name from "Amazon Mom" to "Amazon Family." Amazon Mom is a subscription-based service that allows parents to get deals such as 20% off diaper subscriptions and 15% baby registries. Members also receive emails with messages like "As a busy mom, your time is precious. That's why we're offering you two free audiobooks—so you can catch up on today's best sellers even when you're on the treadmill, in yoga class, or toning up." It's apparent from its name and its messaging that Amazon has chosen a target market for this service, and it is not Oren Miller.However, in other countries, Miller wouldn't have had to start this initiative. Elsewhere in the world (Canada, France, Austria, Japan, Germany, and the U.K.), Amazon Mom is already known as Amazon Family. The sites all look similar and offer similar discounts, so why is the name different in the U.S.? While Amazon has not made any comments on this, it is clear that they thought naming the program Amazon Mom would be more successful for the brand in the U.S. marketplace. This one word change has an immense effect on who might use the program. As Miller frequently pointed out on his blog, the name insinuates that mothers are the only capable caretakers and, thus, the only ones who would use this service.
Why would Amazon do this? Probably because even though using the word "mom" instead of "family" ostracizes an entire group of people, it allows Amazon to directly appeal to this service's primary target market: moms. This is a situation in which a segmentation study could have come in handy. Although sometimes the markets for services or products seem obvious, segmentation studies can identify underlying groups that might otherwise be missed. It can use goals, experience, usage, characteristics, and needs to group similar people together in ways that might not be obvious at first. In this case, a segmentation could show that Amazon was missing a smaller—but vocal—group in dads.
Miller's petition is nearing its goal amount of signatures. If it hits its goal, will it make a difference? Will "Amazon Mom" actually change to "Amazon Family"? Possibly. It's at least something to consider as more and more people get involved in the cause, using #AmazonFamilyUS to shine light on the situation and to illustrate how angry they are at being excluded.
McKenzie Mann is a Senior Associate Researcher at CMB. She spends most of her spare time trying to convince her friends that it's funny to replace the word "man" with "mann." It's a work in progress, but mann will it be great when it catches on.